Authentic Beauty - Book Review
Janet Chismar

Senior Editor, News & Culture

2003

3 Sep

COMMENTS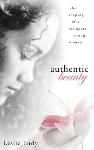 Author:        Leslie Ludy
Publisher:   Multnomah Publishers

Leslie Ludy hits the mark in challenging high school and college-aged women to live a "set-apart life." In a culture where teens are taught to flaunt their sexuality, Ludy encourages her readers to pull away from mindless dating, careless flirting, revealing clothing and empty pursuits. Her intent is not to drain the joy from life but to show young women there is a heroic prince worthy of their devotion.

Skillfully combining Scripture and common sense to demonstrate the "how" of biblical femininity, Ludy teaches that even if no earthly prince is waiting on the horizon, Christ can fulfill the deepest longings of any woman's heart.

Ludy's own life experiences add creditability to the message, and her tone and style make for easy reading. Although the phrase "my prince" feels overused by the last page, it fails to detract from the overall quality of "Authentic Beauty."

Used by permission.  CCM Magazine © 2003  Click here to subscribe.

Get 1 Christian Bestseller for FREE, plus FREE shipping.  Click  here for details.