Author Annabelle Robertson: Southern Girl on a Mission
Staff
Monday, December 18, 2006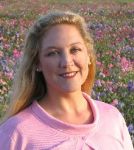 I first spent about 10 years teaching myself to write. I read dozens of writing books, wrote short stories and attended writer's conferences and writer's groups. I then wrote (and rewrote, and rewrote – because that's what it takes) a full-length novel, which a few agents asked to see. None offered to represent me, however. Finally, after I came up with the idea for "The Southern Girl's Guide," everything clicked into place. I got an agent and three major publishing houses bid against each other for the rights, at auction. It took ten years, though. Not exactly an overnight success.
Why did you opt for a non-Christian publisher?
When I first went to seminary, I believed that everything Christians said and did should preach the gospel – intentionally, overtly and without shame. That was my interpretation of Paul's statement, Philippians 1:21 so that's what I did. As a result, God put seekers in my path. In taxis, on the ski slopes, in the grocery store – you name it – I shared the gospel. And, as I look back on those people who committed their lives to Christ with me, I am filled with a deep, inexplicable joy that can only come from seeing someone ushered into the kingdom.
As I grew older, however, I realized that there was another audience. Non-Christians who had never understood a syllable of the "Christianese" we so often lapse into. Atheists. Agnostics. New Agers. Nominal Christians who, like me, had grown up attending church without ever connecting to the message. These weren't seekers who would walk into a Christian bookstore, looking for answers. They would, however, go into a Barnes & Noble. I wanted to be there when they did.
So is your book Christian?
Absolutely. I'm a deeply committed Christian, so everything I write is Christian – and I uphold Scripture throughout. But I don't preach. There's a wonderful place for preaching – the pulpit – and many people, like my husband, excel at it. Books are another art form entirely, however, and to violate that medium leads, in my opinion, to bad art. If we're faithful to the gifts God gives us – and to Jesus' commands – a message of freedom will flow and God's kingdom will be extended. For some reason, however, the Christian community tends to put the message over the art form. We justify it by saying it's biblical, but even Jesus didn't do that.
What do you mean?
In Matthew 13, Jesus shares the Parable of the Sower. When he's finished, his disciples say (from The Message), "Why do you tell stories?" Jesus replies, "You've been given insight into God's kingdom. You know how it works. Not everybody has this gift, this insight; it hasn't been given to them. Whenever someone has a ready heart for this, the insights and understandings flow freely. But if there is no readiness, any trace of receptivity soon disappears. That's why I tell stories: to create readiness, to nudge the people toward receptive insight."
People will find truth in my book, if they are seeking it. They'll realize that they are not alone, and that we all struggle to love one another, despite our crazy male and female idiosyncrasies. They'll find a reason to work through their marriage problems and stay married. The very last line of my book reads, "So stay sweet, y'all – and stay married. We Southern Girls are counting on you." That's my mission. And even if I help just one couple, I'll know that I've accomplished God's work.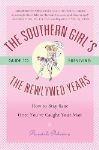 For more information about "The Southern Girl's Guide to Surviving the Newlywed Years: How to Stay Sane Once You've Caught Your Man" and to watch a video of Annabelle Robertson, please visit www.SouthernGirlsGuide.com.

To read Annabelle's blog in Crosswalk Weblogs, please click here.
Have something to say about this article? Leave your comment via Facebook below!
advertise with us
Example: "Gen 1:1" "John 3" "Moses" "trust"
Advanced Search
Listen to Your Favorite Pastors