Author Max Lucado Transcends Church of Christ Beliefs
Michael Foust, Baptist Press
Monday, May 16, 2005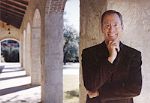 NASHVILLE, Tenn. — When Max Lucado became pastor of Oak Hills Church in San Antonio in the late 1980s, he had one unusual request. He wanted no paycheck.
Already an established author, Lucado asked that his church salary go toward other church expenses – for example, hiring another employee. His living expenses would come from book sales. That's the way it's been ever since.
"I haven't received a salary since 1990," he told Baptist Press during a visit to Nashville, Tenn., in April.
Lucado's church is Church of Christ – but not a typical Church of Christ. For starters, musical instruments are used (although there is still one a cappella service). Also, the church has a baptistic view of baptism – that is, that baptism isn't required for salvation.
Recently, his church, which has some 5,000 members, even changed its name from "Oak Hills Church of Christ" to simply "Oak Hills Church."
"We've received criticism, of course," he said. "But our thinking is that we're not here to please other churches or other church leaders in other cities. As a church in San Antonio, our goal is to reach San Antonio."
Christians of all denominations have embraced Lucado's work. He has written more than 50 books – with more than 39 million in print – including his latest, "Come Thirsty," (W Publishing Group) which came out last year.
"[The book has] a pretty simple premise, and that is what we feel in the body for water, the soul feels for Christ," he said. "Jesus said, 'If any man is thirsty let him come to Me and drink.' And so, this book basically gives the reader a prescription and permission – a prescription on what to drink and permission to drink."
Using the acronym WELL, Lucado calls on Christians to drink from God's Work on the cross, Energy (the Holy Spirit), Lordship and Love.
Lucado writes two books a year, including a children's book. In addition, a gift book bearing his name – many times a devotional – also is published.
"It's usually a repackaging of our prior works," he said.
Following is a partial transcript of BP's interview with Lucado:
Baptist Press: What transpired for Oak Hills Church of Christ to rename itself Oak Hills Church?
Lucado: "I was really struck that many people would not visit our church because of the name. They had a bad experience somewhere with the Church of Christ. I've never had an allegiance to the name. Oak Hills has never fit into that mold of a Church of Christ. ... There are people in the Church of Christ who believe that they're the only ones going to heaven. We never believed that. I never believed that. We were never exclusively a cappella in our music, but a lot of Churches of Christ are. We always had instrumentation.
"We never taught – the buzzphrase is baptismal regeneration, where you go into the baptistery lost and come out saved. We never taught that. Now, I'm not saying there were not people in our church who believed that. ...
"So we didn't quite fit the mold of the Church of Christ, so it didn't make sense to us that people should not come and visit the church because of the name. But it took a long time. I first proposed the idea to our church leadership back in 1993. The Lord continued to bless the church and it continued to grow, and it was a healthy, happy church. And they just didn't feel like it was time to change the name until about 10 years later."
Baptist Press: Would you still consider yourself or the church a part of the Campbell/Stone movement? (The names of those who began the Church of Christ movement.)
Have something to say about this article? Leave your comment via Facebook below!
advertise with us
Example: "Gen 1:1" "John 3" "Moses" "trust"
Advanced Search
Listen to Your Favorite Pastors