"Average" Photographer Delivers Emotional Holy Land Images
Randall Murphree, AgapePress
Tuesday, April 18, 2006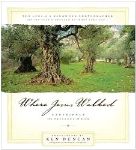 AgapePress interviewed world-renowned photographer Ken Duncan after the recent release of his book, "Where Jesus Walked" (Integrity, 2006). Duncan, a native of Australia, talked about his journey to faith and about the impact his first visit to Israel had on him.
Q:  What led you to faith in Christ?
A:  Well that's a long story. I was bought up by awesome Christian parents who lived by what they preached and never stopped praying for me. In the end I still had to find my own way and I rebelled. I felt Christianity was too easy and that life had to be more difficult than just letting Jesus into your life. So, I got involved in all sorts of things trying to find a meaning to life. I got into philosophy, Buddhism, Hinduism, The Aboriginal Dreamtime (worship of creation) immoral living and all sorts of weird things.
Then I met a Christian who really new the Bible and lived the Christian life. He would counter all my attacks with the Word of God and didn't judge me; he just loved me and fed me on the Word.
Q:  So it was that friend who led you to the Lord?
A:  No. Later, when a friend died in my arms, I tried to resuscitate him. I felt his spirit leave his body and this really challenged me as I didn't believe in the spiritual world at that time. Then I had a really bad experience in Dreamtime Mythology when I was confronted with demonic powers that showed me that I was not in control of them but that they where in control of me. I called out to God and He miraculously helped me deal with that issue.
Q:  Then, this experience was the defining factor in your conversion?
A:  Not yet. I was a hard-liner who had to hit many brick walls before I gave in to Jesus. Another time, after being injured in a fall, I got gangrene in my foot. I went to a major hospital. It looked bad, and I was going to lose at least the top part of my foot. One night when the pain seemed too much I yelled out to Jesus and said, "If you are real and help me out of this situation, then I will follow you for the rest of my life." It was miraculous, as the gangrene retreated and all I lost was the top of my big toe. After this you would think I would give in -- but no, I broke my promises to Jesus and off I went again doing my own thing.
Q:  So there's more?
A:  We're almost there. After that last experience, I went to Tasmania in the winter time and got hyperthermia which really affected my nervous system. I got so cold physically and irrational in my thinking that I just wanted to walk out into the wilderness. If I had done that, I would have died. God broke through my blurry mind and I called out to Him this simple prayer, "God, help me." He did, and a light hit me in my core and radiated out into the extremities of my body warming me to the point where I was able to sleep and recover from the cold.
Some weeks after this event, I found myself crying, having developed severe anxiety in the form of agoraphobia, the fear of open spaces. That's not a good condition for a landscape photographer! As I was recovering at my parents' place, I kept watching Dr. Robert Schuller on TV. His positive message sort of got under my guard, his soft approach really got through my defense systems. At this point I knew I had had enough of trying to work out the meaning to life on my own. I went to a church and asked Jesus into my life. I finally found what I had been always looking for -- peace.
Q:  What led you to compile "Where Jesus Walked"?
A:  When Byron Williamson from Integrity Publishing approached me about doing a book on the footsteps of Jesus, I just knew it was for me. I felt God calling.
Have something to say about this article? Leave your comment via Facebook below!
advertise with us
Example: "Gen 1:1" "John 3" "Moses" "trust"
Advanced Search
Listen to Your Favorite Pastors