Because He Loves Me
Elyse Fitzpatrick, Author
Tuesday, June 03, 2008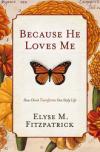 Perhaps another facet of our desertion of the Savior, and a more insidious one, is that, although all orthodox believers view salvation as his work, we believe that living the Christian life is solely ours. Yes, salvation is a wonderful gift, we think, but Christian living is where we've got to concentrate now.
I believe that most Christians think fondly of Jesus, are sincerely grateful for salvation, and remember his name as a tagline when they pray, but they don't see his work and life as something to contemplate every moment of every day. I have to admit that until fairly recently I, too, pursued godliness without much thought of him. Among those who would classify themselves as serious Christians, who study the Bible and want to please God, my guess is that the thought of revisiting the gospel seems like a step back into kindergarten. To put it another way, if I told you that this is a book about the gospel, would you automatically assume that it's for unbelievers?
What I'll be asking you to consider throughout this book may be summarized in one simple question: In your pursuit of godliness, have you left Jesus behind? Since this might be a new question for you, let me ask you a few more that will help clarify the answer.
If I said that we're going to spend page after page considering God's love, would you feel the need to stifle a yawn? What does his transforming love mean to you today?
Are you more focused on your performance for him or his for you?
At the end of the day is there a rest in your soul because of him, or is there guilt and a determination that tomorrow you're going to "do better"?
Do you still feel the need to prove that you're not "all that bad"? Do you get angry when people criticize or ignore you?
You know that Jesus is the Door. Do you see how he is your life? Could you tell me exactly how he has transformed your daily life?
As we work through the answers to these questions together, I want you to be encouraged. This is an endeavor that your Savior is passionate about. His great accomplishments, so personally costly to him, are not to be relegated to some introductory course that gets stored in the garage with old yearbooks. No, they're to be constantly mused on and relentlessly rejoiced in by all who know them.
So let's ask him to enlighten us now as we embark upon our journey back to Jerusalem, searching for the Beloved Son. Unlike his parents, we won't have to search frantically. No, he is joyfully and patiently waiting to reacquaint you with his love and to make his undiminished presence the most relevant aspect of your life. Let's spend time thinking about our Savior and how what he has already done is meant to be the most significant characteristic of our faith and life for him.

Because He Loves Me
Copyright © 2008 by Elyse Fitzpatrick
Published by Crossway Books, a publishing ministry of Good News Publishers
1300 Crescent Street
Wheaton, Illinois 60187

All rights reserved. No part of this publication may be reproduced, stored in a retrieval system or transmitted in any form by any means, electronic, mechanical, photocopy, recording or otherwise, without the prior permission of the publisher, except as provided for by USA copyright law.
Have something to say about this article? Leave your comment via Facebook below!
advertise with us
Example: "Gen 1:1" "John 3" "Moses" "trust"
Advanced Search
Listen to Your Favorite Pastors