Believer's Baptism Draws Profs' Wide-Ranging Defense
Jeff Robinson, Baptist Press
Tuesday, February 27, 2007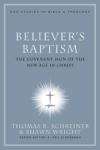 LOUISVILLE, Ky. — Is the doctrine of baptism a minor theological issue that matters little in the greater scheme of biblical teaching?
Adoniram and Ann Judson, famed Baptist missionaries, did not view baptism as a third-tier issue. In the winter of 1812, the Judsons began a long ocean voyage from Massachusetts to the mission field in Burma.
The couple was convinced that God had called them to a lifetime of Gospel service in Burma, and on the way to the field the Judsons studied their Bibles intensely. Both had been raised in godly Congregationalist families and baptized as infants.
But as they spent days studying the Scriptures, the Judsons became convinced that only believers should be baptized. Upon reaching Calcutta, the two were baptized by immersion in keeping with their newfound biblical convictions.
The editors and essayists of a new book, "Believer's Baptism: Sign of the New Covenant in Christ" (Broadman & Holman Academic), concur with the sentiments of the Judsons, whose story opens the forward by Baptist theologian and historian Timothy George. Baptism, while it is not required for one to become a Christian, is a critical issue that Scripture regularly connects with belief and salvation, the essayists say.
"Believer's Baptism" is edited by Thomas R. Schreiner and Shawn D. Wright, both professors at Southern Baptist Theological Seminary in Louisville, Ky. Schreiner serves as the James Buchanan Harrison Professor of New Testament Interpretation and Wright is assistant professor of church history. The book is the second volume in Broadman & Holman's NAC Studies in Bible & Theology and includes essays from theologians with various Southern Baptist ties.
It is being released as a handful of churches nationwide grapple with the issue of baptism. In 2005, the elders of Minneapolis' Bethlehem Baptist Church, where John Piper pastors, recommended but later withdrew a rule change allowing membership for those who had been baptized as infants. Similarly in 2006, the elders of Henderson Hills Baptist Church in Edmond, Okla., recommended then withdrew a proposal to remove baptism as a requirement for membership. In each instance, some elders changed their minds.
Essayists argue stringently that baptism is not a teaching that should be dismissed lightly as a peripheral doctrine, particularly by Baptists whose forefathers were persecuted for insisting on believer's baptism.
"Such sentiment [that baptism is a minor issue] is misdirected, for baptism is regularly connected in Scripture with belief and salvation," the editors write in the introduction. "Baptism is the initiation rite into the Christian church. Those who label it as minor are imposing their own categories onto the Scriptures instead of listening to the Scriptures."
The book argues on biblical grounds that baptism is the rite that initiates believers into the church, a rite that is to be administered to believers alone. The essayists also critique arguments for infant baptism and seek to demonstrate the unbiblical nature of baptizing children.
"Baptism is important precisely because it is tied to the gospel, to the saving work that Christ accomplished in his death and resurrection," the editors assert. "We do not think baptizing infants is merely a minor mistake, even though we rejoice in the evangelical credentials of many with whom we disagree.
"Believer's baptism accords with the gospel because it teaches that the objective work of God in salvation necessarily leads to the subjective response of faith.... We believe that baptism should be reserved for believers because it preserves the testimony of the gospel by showing that only those who have repented and believe belong to the church. Only those who have exercised faith are justified. Hence, only those who have trusted in Christ should be baptized. Restricting baptism to believers only, therefore, preserves the pure witness of the gospel."
Have something to say about this article? Leave your comment via Facebook below!
advertise with us
Example: "Gen 1:1" "John 3" "Moses" "trust"
Advanced Search
Listen to Your Favorite Pastors