Bible Translation Debate: Complete TNIV Hits the Streets
Jeff Robinson, Baptist Press
Thursday, February 17, 2005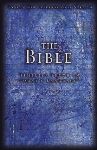 LOUISVILLE, Ky. — Would Gen-Xers and 'Gen-Yers' better understand their American heritage if history books called the men who gathered at the first Constitutional Convention "our founding human beings" instead of "our founding fathers?"
Translators of the full-Bible edition of Today's New International Version (TNIV), released Feb. 4 by Zondervan, have tampered in similar fashion with something infinitely more sacred, evangelical Bible scholar/theologian Wayne Grudem says.
By employing gender-neutral language, translators have edited the Scriptures in a manner that is both inaccurate and unnecessary, says Grudem, research professor of Bible and theology at Phoenix Seminary in Scottsdale, Ariz., and co-author of "The TNIV and the Gender-Neutral Bible Controversy" (Broadman & Holman, 2004). 
"They are changing a historical document [the Bible]," Grudem said. "It is like someone writing about Bob Dylan's song from the 1960s, 'How many roads must a man walk down, before you call him a man?' and deciding that people today wouldn't understand that Bob Dylan was using an example of a specific man to teach a general truth, and therefore telling modern 18-34 year olds that Bob Dylan wrote these words in a song: 'How many roads must a human being walk down, before you call them a person?'
"That would not be historically accurate, nor would it be necessary. But that is what the TNIV has done to the Bible." 
Zondervan released the TNIV in early February following perhaps one of the largest advertising campaigns in church history. The publishing house pumped millions of dollars into a media blitz that saw it run ads in scores of publications both sacred and secular, including "Rolling Stone," which apparently changed its policy to run the ad after initially rejecting it due to "religious content."
The TNIV is an updated version of Zondervan's famous New International Version (NIV), which was for many years the best-selling Bible translation, annually pulling in one third of all Bible sales. The main difference between the TNIV and the NIV is that the new translation employs "inclusive language." That is, many words referring to the male gender are changed to include the female gender – "they" instead of "he," "parent" instead of "father," "brothers and sisters" instead of "brothers," and so on.
Zondervan is targeting the 18-34 age group with the new translation, a demographic that Paul Caminiti, vice president and publisher for Bibles for Zondervan, says is hungry for spiritual truth.
"Our mission at Zondervan for our Bible group is simple: It is more people engaging the Bible more," Caminiti said. "We have wrestled for some time with the idea that we might engage more people than ever before in God's Word. And as we began to look carefully at that and as we began to study different people and their degrees of ripeness, in a sense, for spiritual truth, it became clear through our research that the most spiritually-intrigued group on the planet are 18 to 34 year olds."
Still, Grudem contends that a desire to reach a particular demographic group does not provide warrant to alter the Scriptures.
"I think every 18-34 year old can understand the first grade reading words 'man,' 'father,' 'son,' 'brother,' and 'he/him/his,'" Grudem said. "Do people really want a Bible where they can't trust that what they are reading is what the Bible says?"
Have something to say about this article? Leave your comment via Facebook below!
advertise with us
Example: "Gen 1:1" "John 3" "Moses" "trust"
Advanced Search
Listen to Your Favorite Pastors