Bible Translation Debate: Complete TNIV Hits the Streets
Jeff Robinson, Baptist Press
Thursday, February 17, 2005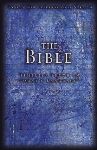 Instead of using terms such as "gender inclusive" and "gender neutral" to describe the TNIV's revised language, Zondervan's ad blitz uses the slogan "Timeless truth. Today's language" and says the Bible is "gender accurate." But that itself is an inaccurate description, say both Grudem and Randy Stinson, executive director of the Council on Biblical Manhood and Womanhood.
"This translation is by and large inaccurate when it comes to the gender-related language," Stinson said. "While calling it gender-accurate might be a good marketing move, it cannot hide the fact that in literally thousands of places this Bible – in its use of words such as `son', `he', `him', `his', `brother', `man', and `father', are translated in ways not recognized in standard Greek, Hebrew, and Aramaic dictionaries. The result is a loss of meaning throughout the entire Old and New Testament."
Despite Zondervan's noble intentions, Stinson fears that changing pronouns and inserting neutral gender references to suit contemporary whims will not compel large numbers of any age particular group to desire the Scriptures but will only place an inaccurate translation in the hands of Christians.
"While we are grateful for the desire to reach a particular age group, we are doubtful that the reason this age group does not read the Bible is because of masculine pronouns and the presence of words like father, brother, and son," Stinson said. "It is possible to have good motives and still end up with a faulty product. This, in my estimation, is what has happened with the TNIV."
Caminiti contends that the TNIV is an accurate translation – one he believes eventually will replace the NIV as the translation of choice among evangelicals.
"This translation was done by the Committee for Bible Translators (CBT) which is the same committee that translated the NIV," Caminiti said. "In our estimation, they are the most qualified group of translators on the planet. They come from the most renowned evangelical colleges and seminaries in the world. They are a who's who of linguists and we would make a very clear distinction between someone who is a trained linguist and simply someone who has a theological degree.
"Also, this is a completely independent committee. They are not owned by Zondervan. They are not owned by the International Bible Society. They are their own independent group and, believe me, they work independently to translate God's Word in the most accurate way possible." 
Mark Rice, vice president of corporate communications for Zondervan, insists that the TNIV meets one of the company's most important criteria: widespread acceptance by its target demographic.
"The one thing we have really kept in focus is, and what frankly has been the most encouraging, has been the response we've received from the age group that we are after. That is frankly, for us, the response that is most important – and that is how are 18 to 34 year olds responding to the text?" Rice said.
"Our biggest supporters have been young people in the 18 to 34 year old demographic who want a Bible that combines the best in biblical scholarship with language that is relevant today and we have received overwhelming support from that age group. To us that is the true sign of how this text is being received in the market."
The TNIV is one of several new translations released in recent years. The Holman Christian Standard Bible, published by Broadman & Holman, was released in 2004. Incidentally, the HCSB may share some common ground with the controversial TNIV translation simply because in some cases HCSB translators saw that a passage in the original language indeed had no gender specificity. On the other hand, in some cases the HCSB may break with the 1984 New International Version which added masculine pronouns not reflected in the original text.
Have something to say about this article? Leave your comment via Facebook below!
advertise with us
Example: "Gen 1:1" "John 3" "Moses" "trust"
Advanced Search
Listen to Your Favorite Pastors