Big Truths for Young Hearts
Bruce A. Ware, Author
Thursday, June 11, 2009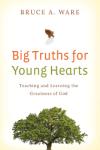 Part of what it means for God to be good is that he longs for his own people to be blessed and to experience true and lasting joy. He loves his own people deeply, and the proof of his love for his own people is seen in the grace and mercy shown to them despite their sin. Even though we deserve God's just punishment, God has sent his Son to pay for our sin and bring us into right relationship with himself. Such grace (kindness given to those who deserve punishment instead; see Ephesians 2:8–9) and mercy (kindness given to those who are hopeless and helpless; see Ephesians 2:1–4) are the expressions of God's love and goodness to his own people.
So, God is perfectly wise, all-powerful, and completely good. We have every reason to trust him, then. God plans only what is best (he is perfectly wise), and God cannot be hindered in bringing it about (he is all-powerful), and we know that his plans will work out for our best (he is completely good). Like sitting on a three-legged stool, we need to sit by faith on top of these three supports: God's wisdom, power, and goodness give us every reason to put our trust in God, and in God alone.
Questions for Thought
1. Why is it good (and wonderful) that God is both all-powerful and all-wise? How does our trust in God depend on God being both all-wise and all-powerful?
2. How is your confidence in God and his ways strengthened even more by knowing that God is always good? What are some ways your doubts or fears can be removed by trusting in God's wisdom, power, and goodness?
Memory Verse
Daniel 2:20—"Blessed be the name of God forever and ever, to whom belong wisdom and might."
Big Truths for Young Hearts: Teaching and Learning the Greatness of God
Copyright 2009 by Bruce A. Ware
Published by Crossway Books, a publishing ministry of Good News Publishers
1300 Crescent Street Wheaton, Illinois 60187
All rights reserved. No part of this publication may be reproduced, stored in a retrieval system or transmitted in any form by any means, electronic, mechanical, photocopy, recording or otherwise, without the prior permission of the publisher, except as provided for by USA copyright law.
Have something to say about this article? Leave your comment via Facebook below!
advertise with us
Example: "Gen 1:1" "John 3" "Moses" "trust"
Advanced Search
Listen to Your Favorite Pastors