Big Truths for Young Hearts
Bruce A. Ware, Author
Thursday, June 11, 2009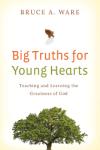 One thing this makes clear is how different God's love for us is from our love for each other. A husband may truly love his wife, and the wife may truly love her husband, and yet in their love for each other, they both have needs that the other person must meet. Their love for each other, then, is a matter of both giving to serve the other and receiving what one needs from the other. But since God has no needs that he himself does not meet within his own life as God, his love for us is completely unselfish. God's love, as C. S. Lewis put it, is "bottomlessly selfless, by very definition; it has everything to give and nothing to receive" (The Problem of Pain). God's love for us is not a because of love; God doesn't love us for what he can get from us, as if he needed anything we could give him! Rather, God's love is an in spite of love; God loves us even though we cannot benefit him, and even though we have sinned against him. As Paul puts it, "but God shows his love for us in that while we were still sinners, Christ died for us" (Romans 5:8), and John says, "In this is love, not that we have loved God but that he loved us and sent his Son to be the propitiation for our sins" (1 John 4:10).
This last point raises a very important truth that we will look at much more in later chapters. For God to be a God who is with us, he must come to us in our sin. And yet God is pure, holy, and sinless, and so he cannot live joyfully and fully with us as sinners. So, God chose that he would come to be with us in the person of his own Son, who would live a perfect life in all of the ways that we as sinners had failed to do. As one who was perfect and sinless, God's Son, Jesus, could then pay the penalty we deserved to pay for our sin. When Jesus died on the cross, his Father placed upon Jesus our sin, so that Jesus died in our place, paying the penalty of death that we deserved to pay. Only in this way would it be possible for our sin to be taken away or forgiven, so we could be viewed by God no longer as sinful but now as pure and righteous. As Paul states it, "For our sake he [God the Father] made him [Jesus] to be sin who knew no sin, so that in him we might become the righteousness of God" (2 Corinthians 5:21).
What God calls us to do is to admit that we have sinned against him, that we deserve death for our sin, and now to believe and trust that Jesus died in our place, paying the penalty we deserved for our sin. When we turn from our sin and trust in Jesus' death as a full payment for our sin, God promises to forgive us of our sin and to make us clean before him. Paul states, "For the wages of sin is death, but the free gift of God is eternal life in Christ Jesus our Lord" (Romans 6:23). Although we deserve to die because of our sin, God's gift to us through faith is life with him that never ends. How amazing that even though God is holy and sinless, he has come near to us, especially in his own Son, providing a way for us to be saved from our sin and brought into his presence forever. God truly is a God who is with us—with us forever through faith in Christ.
Questions for Thought
1. Why do we sometimes think that God loves us because we deserve to be loved by him? What are some reasons we should realize that we do not deserve to have God's love or kindness shown to us?
2. If God loves us when he doesn't need us and when we don't deserve his love, how should we respond to his great love?
Memory Verse
Romans 5:8—"God shows his love for us in that while we were still sinners, Christ died for us."
Some Truths about God's Richness That Make Him God
How important is it to know someone well, and to know his or her character? Imagine, for example, asking a perfect stranger to stay in your house and watch your pets while you're on vacation. Would you trust him? Isn't it true that only in coming to know someone are you able to decide whether he can be trusted, whether she is true to her word, whether you can depend on him or her? The very same thing is true in our relationship with God. We need to seek to know him much, much better so that we will be drawn to love and trust him more. Knowing him better should be one of the main things we seek through all of our lives. Here we'll consider three ways in which the character of God is seen in God who lives fully as God, apart from the world. There is a richness to God that is true of him totally apart from whether he made the world or not. God is God period. As we've seen, God does not need the world in order to be God, even though the world needs God for everything that it is and does. So, what are some of the ways that God's richness can be seen as he is—the true and living God, apart from the world?
Have something to say about this article? Leave your comment via Facebook below!
advertise with us
Example: "Gen 1:1" "John 3" "Moses" "trust"
Advanced Search
Listen to Your Favorite Pastors