Blood Brothers - Book Review
Chris Well

Book Reviewer

2003

5 Mar

COMMENTS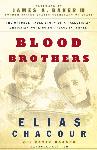 Authors:     Elias Chacour with David Hazard
Publisher:   Chosen Books
With reports of bloodshed in the Middle East as a regular fixture on the evening news, this new edition of Blood Brothers is timelier than ever.  First released in 1984, it's the heartrending and hopeful first-person account of Elias Chacour, a Palestinian Christian working for peace in Israel.
When he was a small boy, Chacour's family was driven from its home in a small Palestinian village in Galilee.  But throughout his adolescence and into adulthood, Chacour clung to what his father taught him from the Bible:  "Blessed are the peacemakers."
Blood Brothers weaves together history, politics and Bible prophecy.  But most importantly, it's a remarkable journey that gives a human face to a faraway conflict.  Many rush to judgment, but Blood Brothers is a tender reminder that true Christian love is more complicated than simply taking sides.

Get 1 Christian Bestseller for FREE, plus FREE shipping.  Click here for details.