Book Tackles Tough Questions About the Kingdom of Christ
Jeff Robinson, Baptist Press
Monday, January 10, 2005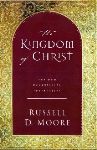 Is the Kingdom of Christ a present or future reality? Is it spiritual or material? Is it the church or the world? Is it to be found in evangelizing the lost or in reclaiming the culture?
Christians for centuries have debated the answers to these questions and a new book by Russell D. Moore provides an in-depth look at the consensus that has quietly developed within evangelicalism over the past century or so regarding the Kingdom of God.
In "The Kingdom of Christ: The New Evangelical Perspective" (Crossway Books), Moore – who serves as dean of the school of theology and senior vice president for academic administration at Southern Baptist Theology Seminary – examines these questions through the prism of evangelical political action.
"But that is not because the Kingdom is a tool to equip evangelicals for politics," Moore writes. "It is not even because evangelical politics is all that important, in the greater scheme of things. Instead, it is because the failure of evangelical politics points us to something far more important that underlies it – the failure of evangelical theology."
The failure is that of contemporary evangelical theology to engage politics. Moore calls on evangelical Christians to shape their identity by convictions about the Kingdom of God in Christ.
"The new perspective on the Kingdom of God can define evangelical theology along the lines of the central themes of the Old and New Testament canon," Moore writes. "In the end, a renewed focus on the Kingdom is essential if evangelicals are ever going to grapple with the evangel of a crucified, resurrected, and enthroned Messiah.
"As such, evangelicalism ought to become both more and less political. Evangelical theology will not serve an activist agenda to be an identity caucus in someone's political party. But evangelical theology will remind Christians that the call to Christ is not a call to 'go to heaven when you die,' but instead a call to be 'joint heirs' with the Messiah who will inherit an all-encompassing Kingdom."
The book is broken down into four chapters and a conclusion. The chapters deal with evangelical theology and evangelical engagement, the Kingdom as 'already and not yet,' salvation as holistic and Christological, and the church as a kingdom community.
In an interview for Crossway's monthly newsletter announcing the book's publication, Moore said evangelical beliefs on the Kingdom have tended toward two opposite extremes. His book seeks to draw a more integrated and biblical picture of the Kingdom of God.
"Evangelical theologies of the Kingdom have led to two polar opposite approaches to political engagement: withdrawal or triumphalism," Moore said.
"One side persistently calls on evangelicals to withdraw from the public square and prepare for the coming of Christ. It beckons evangelicals to an alternative universe of evangelical sub-culture – a 'Bizarro America' where evangelicals have our own distinctly Christian popular culture, complete with Christian boy bands, Christian cartoon television networks, and Christian romance novels.
"On the other hand, some evangelicals have spoken as though America could be 'claimed' for Christ through enacting 'Christian' political legislation – complete with a 'Christian' view on everything from congressional term limits to the line item veto. These evangelicals have often vested political processes with so much hope that they are befuddled when political victories fail to stem the tide of the sexual revolution or the abortion culture."
A Kingdom theology, Moore says, must inform the social and political engagement of Christians as well as their view of the world's future.
"Both evangelical withdrawal and evangelical triumphalism must be measured against a biblical vision of the Kingdom of God – a Kingdom the New Testament tells us is both "already" and "not yet," present and yet future," Moore said.
"The Kingdom informs us about what our priorities should be – personally, socially, and politically, and also tempers our expectations about what kind of change we can see, and where we can expect to see it. Accordingly, an evangelical Kingdom theology ought to reorient the way we think about both the church business meeting and the Iowa caucuses."


©2004 Southern Baptist Convention, Baptist Press.  All rights reserved.  Used with permission.
Have something to say about this article? Leave your comment via Facebook below!
advertise with us
Example: "Gen 1:1" "John 3" "Moses" "trust"
Advanced Search
Listen to Your Favorite Pastors