Book Talk
Nancy Guthrie, CCM Magazine
Monday, May 17, 2004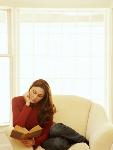 My husband often says, "So when was it that books stopped being written by authors?" You know what he's talking about – sometimes it seems like anybody with even a little bit of celebrity writes a book. But then, we always know when we read something crafted by a real writer, don't we? A gifted writer creates a masterpiece painted with words. And that's what I've discovered in several books this month. Michael Card, Charlie Peacock and Max Lucado are three creative personalities, gifted at infusing spiritual and Scriptural insight with beauty.
Singer/songwriter/author Michael Card gave the devotions at a publishing conference I attended last week, speaking from his book, "A Fragile Stone: The Emotional Life Of Simon Peter" (InterVarsity). I sat spellbound. Now I've also been deeply moved as I've read his book over the days since the conference. The introduction points out that Peter is central in so many of the most significant moments recorded in the New Testament – when Jesus walked on the water, at the Transfiguration, when Peter slept in the Garden of Gethsemane and then cut off the soldier's ear, when he denied Christ three times, among others. Card works his way through Peter's life as revealed in Scripture, seeking to focus on Peter's friendship with Jesus and then calling his readers to learn from viewing Jesus through the eyes and experiences of Peter. This is a beautiful and insightful book I will go back to many times.
Honestly, it took some effort on my part to dig into Charlie Peacock's "New Way to Be Human: A Provocative Look at What it Means to Follow Jesus" (Shaw Books/WaterBrook). But little that is worthwhile comes easily, right? Once I was in, I was hooked. Peacock's mind-altering, life-changing, perspective-adjusting answers to the question, "What does it mean to be a student-follower of Jesus?" challenge all of our Christian culture modus operandi. He invites us into the passionate adventure of bending the shape and purpose of our lives into something far more significant than we have settled for. What he has to say has an impact on our love lives and work agendas, and the message is radical. "One of the strange upside-down things about the life of following Jesus is that you really want it to cost your life," Peacock writes. "If it doesn't, you've yet to step into the Story with intentionality." I suggest you intentionally read this book for a deeper "purpose-driven life." (Switchfoot fans will be pleased to discover that the book's forward is written by front man Jon Foreman.)
Remember the old adage "a spoonful of sugar helps the medicine go down"? That is the image I thought of as I read "It's Not About Me: Rescue from the Life We Thought Would Make Us Happy" (Integrity) The medicine? Theology. The sugar? Max's simple, authentic style. This book is feeding foundational theology about the nature of God – His holiness and immutability, His goodness and love. But the purpose is not information, it's transformation. As Lucado draws back the curtain on God's nature, we can't help seeing our self-promotion, self-preservation and self-centeredness for what it is in light of God's overriding purpose – to reveal His glory. "God's staff meetings, if He had them, would revolve around one question," Lucado suggests, "'How can we reveal My glory today?' God's to-do-list consists of one item: 'Reveal My glory.'" And Lucado assures us this agenda of God's does not reflect an ego problem. "He does not reveal his glory for his good. We need to witness it for ourselves." Like so many Lucado books, this one is short and easy-to-read and yet profoundly powerful.
Have something to say about this article? Leave your comment via Facebook below!
advertise with us
Example: "Gen 1:1" "John 3" "Moses" "trust"
Advanced Search
Listen to Your Favorite Pastors