Breaking the Idols of Your Heart
Dan B. Allender & Tremper Longman III, Authors
Tuesday, June 12, 2007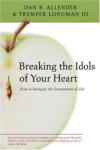 After a quick supermarket stop, they found the apartment complex where Mark and Suzi lived, then meandered through the unfamiliar maze of driveways and parking lots before finally locating number 204 and snagging a parking space nearby. Suzi answered the door with her usual breathless giggle. "Hi, are you here for the Bible study? Of course you are." She accepted the proffered bottles of soda and motioned them into the brightly lit living room.
Noah blinked. The whole place was a riot of country kitsch—rag dolls, teddy bears, fake "antique" signs and plaques with cutesy sayings, scented candles with clashing aromas, and painted knickknacks on every conceivable surface. Noah did not know whether to laugh or smirk, so he concentrated on finding a corner where he could avoid having to converse.
Noah hated the first few minutes of small talk when walking into any gathering because he never knew who to be. If people saw him as the expert, he felt he had to be the Wise One and stayed aloof. Or if people saw him as a regular Joe, a nameless face in the crowd, then he endured the loneliness of insignificance and tried to ignore why he felt like a failure. In either case, he felt he could never win.
After far too long a time of forced conviviality, Jack convened the gathering. "Folks, why don't you grab your drinks, and let's get this ship out of the harbor." Jack began by introducing the new topic of the group's study. "As you know, we are launching into a new study tonight. I hope you will be as excited about studying Ecclesiastes as I have been in preparing for our time together."
Noah grimaced. Isn't it enough that I'm here? Now I'm supposed to be
excited . . .
Jack continued, "With your permission, rather than go chapter by chapter through this great book, I thought we'd go theme by theme and see if we can zero in on the main points. I hope you all were able to read the book in preparation for tonight. What is the one word that kept sticking in your mind as you worked your way through it?"
Noah felt a tinge of guilt over being unprepared, followed by righteous indignation that such a demand had been put on a busy person like himself. He was relieved when Mimi Crawford broke the silence. "Meaninglessness," she said. "The book kept talking about life being meaningless."
Jack nodded. "Right, and didn't that strike you as strange? After all, as Christians, we know that God has given us abundant life now. But here is a wise man who seems completely depressed about the state of the world and his relationship with God. To be honest, I really didn't know how to take the book, so I started looking at some commentaries, and I read through the whole thing a couple of times. Fortunately, it's not too long."
Noah looked out the window at the passing traffic and glanced at his watch, calculating how long he would be forced to endure Jack's monologue before the group would be invited to pool their ignorance and give their opinions on the book. Jack kept talking.
"At first I was a little disappointed with the commentaries. They disagreed in their perspectives on the book, but they all pointed to the last few verses of the book—especially the last two verses—as providing the important teaching. Here, let me read those two verses to you, Ecclesiastes 12:13-14: 'Here now is my final conclusion: Fear God and obey his commands, for this is everyone's duty. God will judge us for everything we do, including every secret thing, whether good or bad.'
"Now, this seemed more biblical to me than 'everything is meaningless,' so I tried to understand the connection between the two. I went back to the commentaries and saw that the book really has two speakers. One is known as the Teacher; the other is known simply as the wise man. The wise man is the one who fears God and who concludes the book with a final perspective.
Have something to say about this article? Leave your comment via Facebook below!
advertise with us
Example: "Gen 1:1" "John 3" "Moses" "trust"
Advanced Search
Listen to Your Favorite Pastors