Breaking the Idols of Your Heart
Dan B. Allender & Tremper Longman III, Authors
Tuesday, June 12, 2007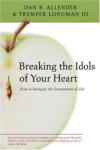 Abraham waited, but nothing happened. He began to doubt whether God would follow through with his promise. Abraham did not doubt God's existence, but he thought he needed to take steps to bring the promise to fulfillment. So Abraham took matters into his own hands. First he adopted Eliezer, his household servant, to be his heir (Genesis 15:2). Then later he took his wife's servant, Hagar, as a concubine and fathered a son with her.
All this was in keeping with the societal norms of the day. But God had specifically stated that he would provide the promised heir through Abraham's union with Sarah. When Abraham grew doubtful, he patiently repeated the promise.
But Abraham still didn't trust God. And the more he grasped for control, the more trouble he brought on himself. The family conflict that resulted from his efforts—especially Sarah's rivalry with Hagar—are well known. Indeed, once we take into consideration that Hagar's son, Ishmael, became the father of the Arab nations and Sarah's son, Isaac the father of the modern Jewish nation, we can see the level of chaos that resulted from Abraham's frenetic attempts at control.
Life Is Untamable
We are no different from Abraham. When we face a problem or an obstacle, we tend to take control and try to change it. But all too often, it seems, God has something different in mind.
Dan and I struggled with the area of control as we wrote this book. We spent a day in Denver to plot out our writing schedule—not only for the book at hand but for the next ten years.
As I left Dan's house to return to my home in Philadelphia, my sights were clear on what I had to do in order to accomplish the task of writing this book. Primed to get to work, I looked forward to the task with great excitement. I felt "empowered" and in control of my work and my life.
I got home from the airport, enjoyed a relaxing evening with my family, and headed to bed, anticipating the next day's work. At three o'clock the phone rang. It was my wife's stepmother. She sobbed, "Tremper, Bill just died!" It took a moment to register, but then I realized that my father-in-law had just passed away.
One phone call changed our lives for the next weeks. My writing schedule, my attempt at controlling my life, was seriously disrupted.
You have probably had similar experiences. Illness, financial upset, other people's decisions, and a host of other events can disrupt our well-laid plans. Such events remind us we can't really control our lives. But that doesn't keep us from exerting enormous energy to maintain the illusion of having life in order.
Think of Noah. He knows his business, and even though he doesn't win the skirmish at work, he believes he will win the war. He prepares and plots victory, and to a certain extent he is able to maintain control. But only to a certain extent—as the towing of his car reminds him.
While we can achieve a significant level of control, keeping all the plates spinning is no more possible than grasping the wind. That's one of the significant lessons of Ecclesiastes—that we must bow to the seasons of order and disorder God establishes in our lives.
The Teacher Questions God's Order
The book of Ecclesiastes contains a long speech by someone who simply calls himself the Teacher. He speaks in most of the book of Ecclesiastes (1:12—12:8). His words are framed by the words of another wise man, who assesses the Teacher's thought for his son—and for us, his readers (1:1-11 and 12:9-14). The Teacher sees life from a perspective that is "under the sun," that is, a solely human perspective (1:9, 14; 2:17; 5:18) as opposed to God's eternal, all-knowing perspective. And the general message of the Teacher's speech is that life is meaningless and our efforts at control are futile.
Have something to say about this article? Leave your comment via Facebook below!
advertise with us
Example: "Gen 1:1" "John 3" "Moses" "trust"
Advanced Search
Listen to Your Favorite Pastors