Breaking the Idols of Your Heart
Dan B. Allender & Tremper Longman III, Authors
Tuesday, June 12, 2007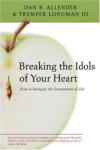 While the Teacher's comments about life will often shock and disturb us, if we are honest we will have to admit that his perspective often mirrors our own. Far too often we are frustrated with life because we are convinced that God is not in control and that he is leaving it all up to us.
The Teacher believed that God has created the opportune moment for everything. In one of the Bible's most moving passages about control and order (Ecclesiastes 3:1-8), the Teacher shares this perspective:
For everything there is a season,
a time for every activity under heaven.
A time to be born and a time to die.
A time to plant and a time to harvest.
A time to kill and a time to heal.
A time to tear down and a time to build up.
A time to cry and a time to laugh.
A time to grieve and a time to dance.
A time to scatter stones and a time to gather stones.
A time to embrace and a time to turn away.
A time to search and a time to quit searching.
A time to keep and a time to throw away.
A time to tear and a time to mend.
A time to be quiet and a time to speak.
A time to love and a time to hate.
A time for war and a time for peace.
We find comfort in those words, don't we? They remind us that everything has its proper place.
But here's the rub, according to the Teacher. Sure, God made the proper time for everything. He created everything for its proper place, and this is beautiful, but we can't know these times! We simply can never be certain that our words or our actions are right for the situation.
Immediately following the poem about time, the Teacher asks some unsettling questions:
What do people really get for all their hard work? I have seen the burden God has placed on us all. Yet God has made everything beautiful for its own time. He has planted eternity in the human heart, but even so, people cannot see the whole scope of God's work from beginning
to end. (3:9-11)
God has created a world with order, and we yearn to experience that order. The Teacher tells us that this knowledge is beyond us all, and as a result we are frustrated to the core:
In my search for wisdom and in my observation of people's burdens here on earth, I discovered that there is ceaseless activity, day and night. I realized that no one can discover everything God is doing under the sun. Not even the wisest people discover everything, no matter what they claim. (8:16-17)
The Teacher touches the raw nerve of reality: The world is rigged for frustration. There is a right way to do things, but we will never know for sure what that is. There is a way to make life work, but we will never do it right. No matter how we try, we will never be in control of our world. It seems almost as if God asks our hungry souls what they want to eat, then prepares the food and places it behind an impenetrable glass wall.
Subjected to Frustration
In the New Testament the apostle Paul expresses the same truth: "For the creation was subjected to frustration, not by its own choice, but by the will of the one who subjected it, in hope that the creation itself will be liberated from its bondage to decay and brought into the glorious freedom of the children of God" (Romans 8:20-21 NIV).
The word Paul uses for frustration is the Greek word that is used in the Septuagint (the ancient Greek translation of the Old Testament) for the word meaningless, the word used most often in Ecclesiastes. In some English versions, this word is translated "vanity" or "futility." Paul's indirect allusion to Ecclesiastes in the Romans 8 passage reflects his awareness that God deliberately imposes frustrations on us. He has made sure nothing in life will work in a way that allows humankind to think they are back home in Eden.
Noah experiences that reality. Though he basically feels that he rules his own life, he still has a few moments when he feels the sting of inner uncertainty. On the one hand, he hates to be the expert—that means accepting the pressure to perform flawlessly. On the other hand, he hates to be a mere mortal, a regular guy—that usually means living without praise or respect.
Have something to say about this article? Leave your comment via Facebook below!
advertise with us
Example: "Gen 1:1" "John 3" "Moses" "trust"
Advanced Search
Listen to Your Favorite Pastors