Bret Lott: Finding Faith in Fiction
Annabelle Robertson, Entertainment Critic
Wednesday, June 30, 2004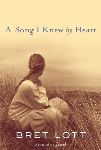 "O'Connor said that a story is not built to instruct or preach," he added. "A story is an experience that you simply live as the reader. It's a piece of art that is rendered as beautifully and wonderfully made as you can make it. Art is a reflection of God simply in the craft by which you make it. That is what has always informed me as a writer. The craft has always got to be as beautiful as it can be, in terms of the quality of the writing."
Lott is also convinced that beauty, when it comes to writing, may well include a portrayal of sin and evil in all of its repulsiveness.
"The integrity of Christ can render the ugly of the world," he said. "And that's the problem with Christian [authors] – they don't want to get their hands dirty. They don't want to write about the ugly of the world. But Christ was a man who walked with the ugly every minute he was awake. And that's what [White] was saying, that you don't have to worry about what the world is going to think. What you have to do in your heart is write with the integrity of Christ."
Like most writers, Lott's success was hard-won. A professor of creative writing at the College of Charleston since 1986, he took satisfaction – although little income – from the literary journals and publishing houses that published his short stories and novels. A critical success, Jewel had nevertheless slipped into out-of-print oblivion.
Citing lackluster sales, Lott's publisher cancelled his contract for two more books.

The Call from Oprah

On the day he received the call from Oprah, Lott was 1,000 miles from home, teaching at Vermont College. He had just spent four hours on the phone with his agent, discussing a sequel to his popular mystery novel, "The Hunt Club," which he calls "a redneck on redneck crime spree" set in the Lowcountry. Having spent a year working on that sequel, Lott was disappointed, though not surprised, to hear that the novel simply didn't work.
"My heart wasn't in it," he admitted.
Facing the fact that he had wasted an entire year, Lott couldn't help but be discouraged. That same afternoon, he was looking forward to dinner with one of his students when he received word that the 51-year-old man had died of a brain aneurysm. He had been reading Lott's novel, "Reed's Beach," when he died.
"All of a sudden, this whole hooha about a novel that didn't work didn't matter," he says. "It was put into great perspective."
Oprah called as Lott was manning the phones for the college, in the wake of the student's death.
"I believe in God – and in a God who works in all our lives," Lott says. "In my life, He was laying a bunch of things through that day to say, 'I'm going to bless you in an incredible way, but I want you to know that books don't matter. It matters how you live your life. You're gonna pass away and books really don't matter.'"
"It was," Lott says, "a great day and a terrible day. The word 'surreal' is what comes to mind about that day when everything was put into perspective."
In addition to his novels, Lott also enjoys writing short stories and essays. His work has appeared in a wide variety of publications, including The Southern Review, The Yale Review, The Iowa Review, the Chicago Tribune and Story. An anthology of his most recent stories, "An Evening on the Cusp of the Apocalypse," will be published later next year, as will a book of his lectures on creative writing titled "Before We Get Started."
In July, Lott will take on a new project – editing The Southern Review, the literary journal founded by Robert Penn Warren in 1935. The new position means a move away from Lott's beloved Charleston to Baton Rouge, La., where he will work on the campus of Louisiana State University to reinvigorate the prestigious publication.
Like any other task he tackles, Lott views this as yet another aspect of his calling.
"Nobody unrolled the Apostle Paul's tents and saw a quote from Isaiah," he said. "Paul didn't use the tent as a canvas from which he would proclaim the gospel. He met a practical need with the integrity of Christ, so that you would know that that man, having been saved by and loving the god that created him, gave you a great tent. To me, that's the story of crafting a novel – it's a reflection of Christ."
Have something to say about this article? Leave your comment via Facebook below!
advertise with us
Example: "Gen 1:1" "John 3" "Moses" "trust"
Advanced Search
Listen to Your Favorite Pastors