Calvin Miller: Rethinking Prayer, Retelling Christ's Story
Laura MacCorkle, Crosswalk.com Senior Editor
Thursday, April 16, 2009

When you think of a typical seminary professor, what words come to mind? Intelligent. Godly. Knowledgable. Trustworthy. Studious. And boring.
Boring??? Yes, I confess that I have formed a stereotype and usually think of the word boring when it comes to those in higher education. But when I recently met with author and seminary professor Calvin Miller, he turned that notion on its ear. Artsy, right-brained, engaging and conversational, Miller had me at "hello." From the moment the interview began to the end, I thoroughly enjoyed hearing from the heart and mind of this truly Renaissance man.
The Oklahoma born and bred theologian began his lifelong career in ministry at Plattsmouth Baptist Church in Plattsmouth, Nebraska before continuing to Westside Church in Omaha, where he served as senior pastor for 25 years. Miller then served as Professor of Communication and Ministry Studies and Writer-in-Residence at Southwestern Baptist Theological Seminary in Ft. Worth, Texas, before joining the faculty at Samford's Beeson Divinity School where he is currently the Professor of Preaching and Pastoral Ministry.
As the author of more than forty books of popular theology and inspiration, Miller took time to share about two titles from his literary repertoire that are fresh takes on timeless truths and traditions: The Path to Celtic Prayer and The Singer.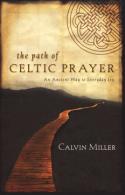 What made you interested in Celtic prayer and want to write about it?
I think books themselves sort of breed books within us. One of the things that happened to me was I had been involved with reading all of Thomas Cahill's books—On the Hinges of History—one of which was How the Irish Saved Civilization. And the funny thing is, even though it's a secular book, you can't write about fifth or sixth century Celts without talking about God because that's all they were interested in. It had a religious ring to it, even though it was a secular book. I just got so intrigued with it because Western seminaries don't usually have much going on in the study of the Celts and Irish revival. In seminary, when you study church history, you tend to study European Christianity and what's going on with the various popes and bishops across the centuries. But you don't really intersect these ideas.
I picked up Esther de Waal's book next—The Celtic Way of Prayer. And I think when I began reading that, it just really interested me. It came out in the secular market. And then I read other books. I found some fascinating devotional books from the fifth, sixth centuries on. The most impressive to me was one by a man named Alexander Carmichael who was a British tax collector. As he was trying to collect taxes, he would listen to the prayers and songs of the people. And he'd say to them, "Where did you get these songs?" And they'd say, "Well my mother taught it to me." Or "my father taught it to me." He was on to a whole new strain of what we would call oral tradition. These things weren't written down. And this was kind of customary among the Celtic peoples. They didn't trust the written word.
Have something to say about this article? Leave your comment via Facebook below!
advertise with us
Example: "Gen 1:1" "John 3" "Moses" "trust"
Advanced Search
Listen to Your Favorite Pastors