Catching Moondrops
Jennifer Erin Valent, Author
Wednesday, October 27, 2010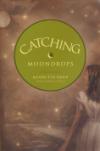 Gemma gave him the once-over and shook her head so hard I thought it might fly off. "I swear, if you ain't a one to push a body into an early grave. Your poor momma's gonna lose her ever-lovin' mind."


Along with his younger brother and sister, Malachi lived down by the tracks with his widowed momma—as the man of the house, so to speak. He'd taken up being friends with Luke Talley some two years back when they'd both worked for the tobacco plant, and they'd remained close even though Luke had struck out on his own building furniture. Malachi was never one to keep his peace, a fact Gemma had no patience for, and she made it good and clear many a time. Today would be no exception.


"Goin' around stirrin' up trouble every which way," she murmured as she pulled fixings out of the first aid box. "It's one thing to pick fights with your own kind. Can't say as though you wouldn't benefit by a poundin' or two every now and again. But this foolin' around with white folks'll get you into more'n you're bargainin' for."


The man who'd helped Noah shoulder the burden of Malachi reached out to take the gauze from Gemma. "Why don't you let me get that?"


Gemma didn't much like being told what to do, and she glared at him. "I can clean up cuts and scrapes. I worked for a doctor past two years."


Malachi nodded toward the man. "This here man is a doctor, Gemma."


I was putting iodine on a piece of cotton, and I near about dropped it on the floor when I heard that. Never in all my born days had I seen a colored man claiming to be a doctor. Neither had Gemma, by the looks of her.


"A doctor?" she murmured. "You sure?"


He laughed and extended his hand to her. "Last I checked. Tal Pritchett. Just got into town yesterday. Gonna set up shop down by the tracks."


Gemma handed the gauze to him, still dumbfounded.


"What d'you think about that?" Malachi grinned and then grimaced when his split lip made its presence known. "A colored doc in Calloway. Shoo-wee. There's gonna be talk about this!"


The doctor went to work cleaning up Malachi's wounds. "I ain't here to start no revolution. I'm just aimin' to help the colored folks get the help they deserve."


"Well, you're goin' to start a revolution whether you want to or not." Malachi shut his eyes and gritted his teeth the minute the iodine set to burning. "Folks in these parts don't much like colored folk settin' themselves up as smart or nothin'."


Gemma watched Tal Pritchett like she was analyzing his every move, finding out for herself if he was a doctor or not. I stood by and let her assist him as she'd been accustomed to doing for Doc Mabley until he passed on two months ago. After Tal had bandaged up Malachi's right hand, she seemed satisfied that he was who he said.


Noah slumped into the other rocker and watched. "It's one thing to get yourself an education and stand for your right to make somethin' of yourself. It's another to go stirrin' up trouble for the sake of stirrin' up trouble."


"I ain't doin' it for the sake of stirrin' up trouble. I done told you that!" Malachi flexed his left hand to test how well his swollen fingers moved. "Ain't no colored man ever gonna be free in this here county . . . in this here state . . . in this here world unless somebody starts fightin' for freedom."


"Slaves was freed decades ago," Noah said sharply. "We ain't in shackles no more."


"But we ain't free to live our lives as we choose, neither. You think colored people are ever gonna be more'n house help and field help so long as we let ourselves be treated like less than white people? No sir. We're less than human to them white folks. They don't think nothin' about killin' so long as who they're killin' is colored."


Have something to say about this article? Leave your comment via Facebook below!
advertise with us
Example: "Gen 1:1" "John 3" "Moses" "trust"
Advanced Search
Listen to Your Favorite Pastors