Celebrities Recall Brushes with Graham in Billy & Me
Adelle M. Banks, Religion News Service
Wednesday, February 13, 2013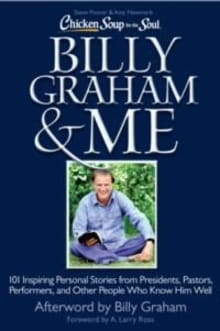 Evangelist Billy Graham has rubbed elbows with celebrities ranging from presidents to journalists to musicians. In Billy Graham & Me, a new book in the Chicken Soup for the Soul franchise that was released Tuesday (Feb. 12), 101 people who have met Graham on the public stage share their private memories of the 94-year-old preacher.
Here are excerpts from 12 of them:
Former President George H.W. Bush
Billy came to stay with Barbara and me at the White House on the eve of the air war against Iraq. I told him what I was then having to do -- our diplomacy and our quest for a peaceful solution having failed. I told him when the first cruise missiles would hit Baghdad, and we watched in wonder as the war to liberate Kuwait began. Just the three of us were there. Billy said a little prayer for our troops and for the innocents who might be killed.
The next day we attended a church service at Fort Meade. His very presence brought great comfort to the people in uniform who were praying at that special service. I cannot begin to tell what Billy's presence and his faith meant to me as President and as Commander in Chief. His own beliefs and abiding faith gave me great strength.
Former President Bill Clinton, recalling Graham's 1959 crusade in Little Rock, Ark.
The crusade happened as Billy wanted it, with tens of thousands of people, black and white, pouring into the stadium where the Arkansas Razorbacks played. When Billy finished preaching and issued the call, inviting us to rededicate our lives to Christ, thousands, black and white together, some smiling, some crying, went down to the field to answer the call. It was a moment in Arkansas history after which nothing would be quite the same for those who were there and those who knew the stand Billy had taken. And Billy didn't have to preach one word about integrating the schools. All he had to speak was God's Word to all God's children.
It may seem easy now, but back then, fifty years ago, it was an act of moral courage and deep faith.
Former CNN talk show host Larry King
The unhappiest and saddest moment for me was when I confronted him over the anti-Semitic conversation he had with President Nixon that was uncovered after the White House tapes were released. Nixon said, "Well, you know, the Jews..." and Billy said, "Yes..." I asked him about that, and he said that the toughest thing, if you were in a room with a president, and a president said something, is to take issue with him. So you either said yes or you nodded your head or suchlike. I didn't agree with Billy on this. For me, you don't say yes. I wouldn't have said yes. That disappointed me.
Southern Baptist public policy ethicist Richard Land
In terms of Evangelical Christianity reengaging the culture, Billy Graham is the man who really did it, on a mass level. And he gave us, the Evangelicals, both the model for how to do it and the confidence with which to do it. There would not have been a modern evangelical movement without him. And I love the guy. He was a hero to me in my boyhood, and he remains a hero to me today.
Former dc Talk frontman Toby McKeehan (TobyMac) on playing at a 1994 Graham crusade in Cleveland
We were asked to meet with Dr. Graham and his wife Ruth at their small home in the North Carolina mountains. I think they wanted to get to know our hearts. When we arrived, we were invited to sit down and we all started talking. Then something happened that I'll never forget. Dr. Graham asked us if we wanted something to drink.
He actually went to the kitchen and brought us two Cokes and a glass of water on a tray. That servant's heart at work even in his home impressed me deeply. Billy told us that we were his translators for the next generation, helping put the Gospel message into a language they could understand. I saw that he cared enough for the world's youth to risk the possibility that half his people might not like us joining him on stage. However, for Billy Graham, reaching young people was worth the risk.
Have something to say about this article? Leave your comment via Facebook below!
advertise with us
Example: "Gen 1:1" "John 3" "Moses" "trust"
Advanced Search
Listen to Your Favorite Pastors