Celebrities Recall Brushes with Graham in Billy & Me
Adelle M. Banks, Religion News Service
Wednesday, February 13, 2013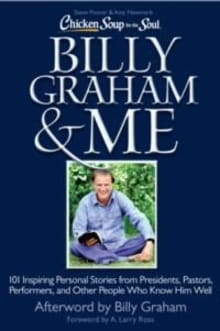 He said, "I have a story for you, Michael. Last night President Obama was sitting in the chair you are sitting in." I was blown away. "What was he doing here, Billy?" I asked. (I was finally calling him Billy!)
"Well, he wanted to come and see me. He called from the Oval Office. The Secret Service was all around, you know, but he walked in by himself, sat down there, and we spent half an hour together."
"What did you talk about?"
"We talked about the country, and this, that, and the other."
"Do you think he's a believer?"
"Well, I believe the man knows the Lord. We prayed together, and before he left, he asked me if he could pray."
And Billy was impressed with the depth of the president's prayer.
Sojourners Founder Jim Wallis, recalling Graham admitting to being nervous in addressing Harvard students in 1999
Billy said, "Jim, I'm really nervous tonight."
"Why in the world would you be nervous?" I replied.
"I feel very weak physically, and am not sure if I will be effective answering questions from these Harvard students."
At that moment, I had such a feeling of great warmth for him. "Billy, they slept overnight on the sidewalk to hear you preach," I said. "The room is full. They're not here to eat your lunch. They're here because they want to tell their grandchildren they were in the same room as Billy Graham."
His vulnerability, his humanity, was so much in evidence in that moment, and I had the chance to do what many of us have known with our aging parents -- to give something back to them. I said, "I'll be sitting right in the front row, and I'll be praying for you the whole time. So if you get nervous, just look down and you'll see me there praying for you. They're here to hear from you. Just speak from your heart, from your soul, and they're gonna love it."
He gave me a hug and he went up to the podium, and a couple of times as he was speaking he looked down at me, and I put my head down and prayed for him.
Of course, despite his doubts, Billy gave an incredibly brilliant, statesmanlike talk about faith and public life.
Saddleback Church Founder Rick Warren - President Obama asked me to pray the invocation at his inauguration, so I promptly went out and bought a nice hat from a store in West Hollywood. But I left it in a hotel room a few days later and it was stolen. I was disappointed, but had no time to buy another. To this day, I still don't know how Billy found out about my hat loss. But about a week later, an unexpected package arrived at my home.
Inside, carefully wrapped, was a beautiful black Homburg hat from Billy Graham! It was the hat Billy had worn at the inaugurations where he'd prayed! Attached was this note: "It's your turn, Rick. It's your hour. This is your hat now." Tears filled my eyes. Once again I saw the greatness of my mentor, his deep love for others, and his encouraging heart.
I wore Billy's hat when I prayed on the Capitol steps at that 2009 inauguration. Billy was unable to attend, but once again, his influence was present.
c. 2013 Religion News Service. Used with permission.
*This Article First Published 2/13/2013
Have something to say about this article? Leave your comment via Facebook below!
advertise with us
Example: "Gen 1:1" "John 3" "Moses" "trust"
Advanced Search
Listen to Your Favorite Pastors