Columbia Astronaut Wives Celebrate Husbands' Faith
Bonnie Pritchett, Baptist Press
Saturday, February 14, 2004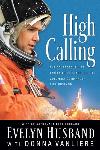 It was Anderson's husband, Mike, who, less than two weeks before the launch, had a specific prayer request for his church family. Husband recorded the statement in her book, "High Calling," released Jan. 13.
"Rick and I have prayed for a successful mission," Mike said, "but also that somehow God would allow everyone to see our faith in Him. We'd like to ask for your prayers as we get ready to go on this sixteen-day mission. And not only prayers for a safe flight but also that in some small way we can use this platform to really let people know what we believe and let God's message get out there."
Rick Husband was equally prophetic on the night before the launch. In the book, Evelyn recalled Rick saying, "I still have such a sense that God is up to something special with this mission."
It has been in no small way that God has used the tragedy of Columbia. Evelyn Husband said Rick and Mike had such a beautiful way of sharing their faith. Rick requested that his funeral services tell of the reality of Jesus Christ. Rick, Evelyn said, wanted it clear that Jesus was a very real part of his life.
"I do believe," she said, "that God has had His hand in this. God did not have an off day" on Feb. 1, 2003. Husband said she could talk for six hours and still not tell of all the ways God has worked in the lives of people since the Columbia disaster. Whenever she feels the urge for a pity party, Husband said, "I'm encouraged by a life that has been touched."
And lives continued to be touched during the Sunday evening memorial concert. One of the most poignant moments of the evening occurred when a video was shown of Rick Husband singing during an Easter production at the church. The live choir on stage joined their voices with their former choir member as he sang, "Were It Not for Grace."
Tears flowed freely more than once during the course of the evening. One such moment was when Green sang "Evelyn's Song," a song he wrote for Husband, never intending to release it or sing it in public. But, with her permission, he shared his personal tribute with the audience.
At the end of the concert, Husband and Anderson thanked Green for his friendship and dedication. The women presented the singer with a photo montage of the Columbia crew and flight. Some of the photos were from a roll of film recovered from the shuttle debris. Both women signed the gift, which, Husband joked, significantly increased its value.
But the gift that drew an emotionally visible response from Green was a gift from Husband. She said Rick had listened to Green's music during workouts on the Columbia mission. Among the few personal effects of Rick's found and returned to his wife was Green's CD. "All the other CDs were fragments," she told Green. "Yours wasn't." She presented the CD to Green, who was obviously moved by the story and the significance of the gift.
Husband and Anderson said they know there is more emotional turmoil ahead in their lives, especially as they commemorate the one-year anniversary of the Columbia tragedy, including the dedication of a Columbia monument in Washington. But Husband said she has learned to deal, in part, with her grief simply by worshiping God.
"[When I] get into the intimacy of worship, the grieving goes away. I don't know how, but He does," she said.
Husband and Anderson were featured speakers at their church Feb. 1.

©  2004 Southern Baptist Convention, Baptist Press.  All rights reserved.  Used with permission.
Have something to say about this article? Leave your comment via Facebook below!
advertise with us
Example: "Gen 1:1" "John 3" "Moses" "trust"
Advanced Search
Listen to Your Favorite Pastors