COMING SOON:
Long Live the Child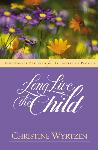 Title:  Long Live the Child:  Devotions Designed for Daughters of Promise
Author(s):  Christine Wyrtzen
Publisher:  Zondervan
Release Date:  February 2003
Genre:  Devotional
Special Features:  Christine Wyrtzen, host of the nationally syndicated radio program, "Daughters of Promise", invites you to get in touch with your inner child in Long Live the Child.  In this 432-page devotional, she invites you to discover your spiritual birthright as a child of God and how to live as a much-loved daughter.
The Scriptures refer to the child as a spiritual model for believers of all ages, but in today's society we have quickly forgotten how to live and love--and receive love--with the freedom and abandon of a little one.  We're stuck in "performance mode", trying to win the approval of others and of God.
Through her own journey of what it means to be adopted by Christ, Wyrtzen has learned how she is fully loved and shares with the reader as a friend and a wounded healer.