COMING SOON - Faith in God and Generals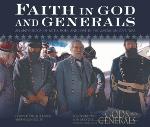 Title:  Faith in God and Generals
Author(s): Compiled by Ted Baehr and Susan Wales
Publisher: Broadman & Holman Publishers
Release
Date:  January 31, 2003
Genre: History
Special
Features: A companion book to the upcoming February 21, 2003 Warner Bros. film, Gods and Generals, Broadman & Holman's Faith in God and Generals is an anthology that explores the lives of devout, godly men and women on both sides of the Civil War who fervently believed that their cause was not only just, but that they enjoyed God's favor.
Gods and Generals film director Ron Maxwell pens the foreword where he salutes Faith in God and Generals as a "must-read for anyone who sees the film or plans to see the film to further their study and increase their understanding of these important historical characters who helped shape the future of the generations who followed." 
Added features include commentary from various Civil War experts, as well as letters, diary entries, articles, and observations from the people who participated in the conflict.