Counsel from the Cross
Elyse M. Fitzpatrick, Dennis E. Johnson
Tuesday, July 14, 2009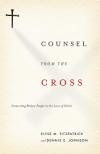 You see, if certain concepts in Scripture have become white noise to us, it will be all too easy to read a verse like Ephesians 5:1 and see only its obligations. I, too, can see myself using the verse to develop a list of the attributes of God and then making a plan to implement those attributes in my daily life. God is holy, merciful, righteous and just. This month I will concentrate on being holy. I'll research what it means and then I'll try to implement it in my life. Next month I'll . . . Because I'm like you, if you asked me what I saw in that verse I would tell you, "We're called to imitate God."
Our propensity to disregard the familiar can be so very detrimental to our faith. When the rest of the verse, "therefore" and "as beloved children," has become white noise to our spiritual ears, we will quickly gloss over it without stopping to consider why it's there or what it's meant to tell us. We won't think to ask why the Holy Spirit positioned such a daunting command in the context of such familiar words. Instead, we will be quick to strip out the familiar and boil down Scripture to a tidy little take-away list of do's and don'ts.
What actually gets relegated to this position of irrelevance is nothing less than the glorious gospel of Jesus Christ, nothing less than Jesus' accomplishments through his incarnation, sinless life, death, resurrection, and ascension. Because we are so familiar with the gospel message, it gets shoved to the periphery of our spiritual consciousness and becomes nothing more than words to be remembered at Christmas and Easter. The truths represented by "therefore" and "as beloved children" are like the constant din of the Interstate 15—unless someone draws your attention to them, they just don't register.
When we lose those truths, what takes center stage in our awareness? We do, of course. When we lose the centrality of the cross, Christianity morphs into a religion of self-improvement and becomes about us, about our accomplishments, and about getting our act together. We become people who ask WWJD (What would Jesus do?)1 without ever considering the gospel or WDJD (What did Jesus do?). Although most of us recognize that Jesus' work is somehow tied to our work, we don't know quite how or why. For instance, if I asked you how the ascension informs and impacts your life today, would you be able to tell me?
To illustrate how detrimental it is to push gospel declarations out to the margins of our awareness, let's see what "therefore" and "as beloved children" from Ephesians 5:1 tell us.
You Are Forgiven
Ephesians 4:32, the verse that immediately precedes Ephesians 5:1, reminds us of a wonderful truth: God in Christ has forgiven us. When Paul commands Christians to imitate God, he does so in light of a very specific divine action: "God in Christ forgave you." What he is saying is this: because you have already been forgiven, you can and should imitate God. Because God has already declared that he will not hold your sins against you, you can adopt this attitude of grace with others.That's why Ephesians 5:1 begins with "therefore": "Therefore be imitators of God, as beloved children." The "therefore" is a gospel declaration, meant to comfort, encourage, and inform you before you get to the gospel obligation, "be imitators of God."
You might be wondering why it is so important to hear yet again what Jesus has already done. After all, haven't we heard that message before? Why would we need to hear it again? We need to hear it again because if we have forgotten his work on our behalf, it will skew the way we think of him, the way we think of ourselves, and the way we think of others. In addition, we will miss the emphasis on imitating God's forgiveness that this verse is meant to communicate, not just a generic imitation of Godlike qualities but a specific imitation of his forgiveness.
Have something to say about this article? Leave your comment via Facebook below!
advertise with us
Example: "Gen 1:1" "John 3" "Moses" "trust"
Advanced Search
Listen to Your Favorite Pastors