Counsel from the Cross
Elyse M. Fitzpatrick, Dennis E. Johnson
Tuesday, July 14, 2009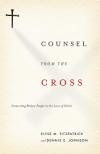 Only the gospel can change how Madeline feels about Hannah and consequently how she treats Hannah. When she is tempted to wrath, self-pity, and self-righteousness, she needs to remember that the Savior had to die for her, too. As she humbles herself before the cross, she will be able to mourn over her sin as well as the sins of her children, and she will know God's comfort (Matt. 5:4).
By faith she can war against anger, self-pity, and self-righteousness because she trusts that her struggle against sin isn't in vain. On Calvary it seemed as though all had been lost, but Calvary isn't all there is. There is an empty tomb. The empty tomb assures her that even though she feels hopelessly trapped by anger and self-pity, the power of sin has been broken in her life.
Then, as she experiences the enveloping comfort of the Spirit, she will be humble enough to seek to comfort Hannah, to see Hannah's sin as no more morally repugnant than her own, and much of her self-justifying wrath will be drained. As she sees how Jesus washed the feet of sinners just like her, she will be encouraged to pick up the basin and the towel with her children again. As she seeks to imitate God to her family, she can rest in the truth that her sins are already forgiven.
The gospel will remind Madeline that she is a beloved child. Although Hannah's sin is grievous and the ramifications of it will last for the rest of Madeline's earthly life, Madeline can remember that when the Father looks upon her he says, "Beloved." While walking through this earth she may never understand why God's plan in her life had to include this humiliating trek through what, at times, feels like the valley of the shadow of death (in part because of her pride and concern about her appearance), but she can know one thing: she is more loved and welcomed than she ever dared hope. God's love for her has determined that this sorrow is a good. She can be assured of this because she trusts that God loves her and is for her. "If God is for us, who can be against us? He who did not spare his own Son but gave him up for us all, how will he not also with him graciously give us all things?" (Rom. 8:31–32).
When Madeline begins to doubt God's love for her or his wisdom in bringing this trial into her life, she can remember this precious truth: the Father gave his Son to make her his own. He, too, knows what it's like to be betrayed by his children, and yet he has made her his own. Jesus Christ has suffered with her, and although she was, in part, a cause of his suffering, still she is beloved. Madeline has been adopted. She is her heavenly Father's child. He will never leave her nor forsake her, and even though the road she is traversing seems terrifying and gloomy, she can be assured that because of the ascension, this trial isn't all she will ever experience. She will know light and joy and comfort and rest and everlasting love. Because this is her future, she can have the faith to persevere today.
After she has warmed her soul by the fire of the gospel, she can seek to imitate God in her home. She and her husband can extend mercy to Hannah and to her boyfriend. She can lovingly talk with her other children about sin's folly and God's grace. She can openly confess her own sin and talk about how God's grace has assured her. She can even face the question of whether her own treatment of her children over the years might have tempted Hannah to secretive hypocrisy or to mistaking sexual intimacy for the genuine love Hannah's heart hungers for.
As Madeline continues to humble herself before God's mighty hand and trust that in the exaltation of Christ, she will be raised up over all the enemies of God's kingdom, sin and rebellion will ultimately be squelched by his mighty power, and Madeline can be assured of this because Jesus is ruling right now at the right hand of her Father.
Have something to say about this article? Leave your comment via Facebook below!
advertise with us
Example: "Gen 1:1" "John 3" "Moses" "trust"
Advanced Search
Listen to Your Favorite Pastors