Counsel from the Cross
Elyse M. Fitzpatrick, Dennis E. Johnson
Tuesday, July 14, 2009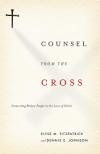 What does Madeline need? She needs the song of the gospel to take center stage and drown out all other voices of revenge, despair, works-righteousness, fear, and self-trust. She can have faith that through Jesus' glorious power, the gospel will captivate her heart because she has been forgiven, beloved, and adopted.
Hearing the Song I'm thankful that I rarely hear the freeway that runs by my house, as I filter out its constant hum, but I am grieved that I so frequently ignore the gospel my Savior is singing so sweetly to me. Like you, I need to hear that gospel song over and over again because my soul is a sieve and the gospel leaks out of it, leaving only the husk of Christianity—my self-righteousness and obligations.
Do you need to hear his gospel song, too? Why not take a few moments now to enjoy these precious truths again: God has forgiven you because of Christ's precious death in your place; you are his beloved child because of Christ's precious life credited to you. Can you hear him singing this never-ending theme to you, his bride?
1) We all know what white noise is. Have the gospel truths of salvation by grace alone in Christ alone become white noise to you? How long has it been since you were enthralled by the thought that God so loved the world that he gave his only Son? Do you remember that God so loves you that Christ died for you (Gal. 2:20)?

2) What reactions do you have to your own or others' sins and failures that might signal when your heart has grown deaf to Christ's song of grace?

3) When you read Ephesians 5:1, what were you most aware of? How did you respond to the command to "imitate God"? Were you self-assured, thinking that you were already doing a pretty good job at it, or were you crushed and despairing? Were you sure that if we just told you how to do it, you'd be able to do it?

4) Aside from the command to imitate God, did you see anything else in Ephesians 5:1? If so, what?

5) How does a fuller appreciation of the gospel change the way you view

6) Summarize in four or five sentences what you have learned from this chapter. What was new? What was most important to you?
Counsel From The Cross
Copyright 2009 by Elyse M. Fitzpatrick and Dennis E. Johnson
Published by Crossway Books, a publishing ministry of Good News Publishers
1300 Crescent Street Wheaton, Illinois 60187
All rights reserved. No part of this publication may be reproduced, stored in a retrieval system or transmitted in any form by any means, electronic, mechanical, photocopy, recording or otherwise, without the prior permission of the publisher, except as provided for by USA copyright law.
Have something to say about this article? Leave your comment via Facebook below!
advertise with us
Example: "Gen 1:1" "John 3" "Moses" "trust"
Advanced Search
Listen to Your Favorite Pastors