Creating an Unbreakable Bond with God
Dr. Cheryl Meier and Dr. Paul Meier, Co-authors, Unbreakable Bonds
Thursday, November 14, 2002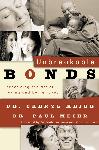 We invite you to stop here for a moment and pray that God will reveal his love to you in the biggest way your heart can embrace.  Ask God to work with you to create an inner safety so that you feel free to let go of your fear, so you can be flexible enough to enlarge your heart, so that you can embrace the endless supply of love he wants to give you.
Eleven Stepping-Stones
Undivided heart for God.  Cultivate unity within and direct yourself toward God and his purposes.
No fear.  Perfect love casts out fear.  Learn to approach God through his grace and let go of fear.  Fear paralyzes us from moving forward, because fear has to do with punishment.  Receive his forgiveness and love.
Be in an attitude of prayer, always.  Prayer is your communication with God.
Read the Holy Scriptures, which God gave to us.  They are love letters from him meant to enrich our lives by bringing truth to the innermost parts.

Enlarge your heart.  Expand the territory of your heart so love has room to make its home.
Ask God to lead you.  When the Lord is your Shepherd, you shall not want.
Know the real God.  Let go of projections, expectations, and myths.
Appoint a specific time to spend with God.  Make time to cultivate your relationship with him.  Find a local place of worship.
Build safe relationships with others.  Each person is created in God's image.
Listen to God.  Cultivate silence in your life.  Consider the ways God speaks to you.
Eternal perspective.  Cultivate this perspective to prioritize what really matters. 
Working through each of the eleven steps will help you build an unbreakable bond with God.

---

Excerpted from Unbreakable Bonds:  Practicing the Art of Loving and Being Loved by Dr. Cheryl Meier and Dr. Paul Meier.  Used by permission of Baker Book House, a division of Baker Book House Company, copyright © 2002.  All rights to this material are reserved.  Materials are not to be distributed to other web locations for retrieval, published in other media, or mirrored at other sites without written permission from Baker Book House Company.
Have something to say about this article? Leave your comment via Facebook below!
advertise with us
Example: "Gen 1:1" "John 3" "Moses" "trust"
Advanced Search
Listen to Your Favorite Pastors