Creating Family Traditions: Thanksgiving Hospitality
Tuesday, November 16, 2004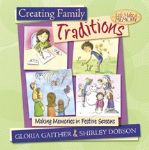 Share with God's people who are in need.  Practice hospitality.  Romans 12:13
The Guest List:  Be sure to include a few people around the table who have no family close by and nowhere else to go on Thanksgiving Day.

The Menu:  When you're planning your meal, call each guest and find out what one or two personal favorite Thanksgiving Day foods are.  Do your best to serve one of each guest's favorites with your turkey.

The Centerpiece:  What will grace the center of your table each Thanksgiving season  Make both the decision and the execution an opportunity for family fun!  Your project can be as simple or complex as you choose.  Be creative.  For instance, make pilgrim salt and pepper shakers, a papier-mache turkey, a dried flower arrangement, or a cornucopia filled with fresh fruits, vegetables, and nuts. 

"Thank You" Place Cards:  For every person at the table, fold one unlined 3" x 5" index card in half.  Write each person's name on the front of the card.  Decorate with Thanksgiving stickers or stamps or anything else you think of!  On the inside write a personal message starting with a phrase like "I'm thankful for you because. …"  Make each message personal and specific.  For example, "I'm thankful for you because you knew just what to say during those rough times this past summer" or "Thank you for always remembering my birthday."

A variation on the them:  Use larger cards and have each member of the family write a message to everyone at the table.  Each person will have a written hug from everyone else.  It's fun to know what others appreciate about you – and it's good to slow down and tell people what you appreciate about them!
Two Kernels of Corn
After dinner dishes are cleared away, but before dessert is served, place two kernels of dried Indian corn in front of each person.  This corn represents the first Thanksgiving:  The Pilgrims had survived a very difficult winter and were thankful that God had brought them through. 
Pass around a little basket.  The person who holds the basket shares two blessings he or she is thankful for.  There may not be a dry eye in the house after the basket has made its journey around the table.
From the fullness of his grace we have all received one blessing after another.  John 1:16
Thanksgiving at the Dobson's – by Shirley
Thanksgiving is given major prominence in the Dobson home.  It marks the beginning of the holiday season and the happy gathering with relatives who live close by.  When the day arrives, excitement and anticipation fill the air.  Wonderful mouthwatering aromas of turkey, dressing, and apple pies float from the kitchen as family members arrive.  A new jigsaw puzzle is placed on the card table with a pot of hot coffee nearby.  Various lawn games are set up in the backyard and a spirited basketball game is soon organized on the driveway.
When dinnertime is announced, we gather around the table and Jim reads a Scripture.  Everyone takes the hand of the person sitting next to him or her and Jim prays a prayer of thankfulness to God.  After the traditional meal has been eaten and the table is cleared for dessert, two kernels of dried Indian corn are placed beside each plate.  I explain that this represents the first Thanksgiving when the Pilgrims came to America and endured such a difficult winter and how grateful they were to God for bringing them through.  A little basket is then passed around and as each kernel is dropped into the basket, we describe two blessings for which we are most thankful.  The comments invariably focus on loved ones, expressed with deepest feelings and appreciation.  By the time the basket returns to where it started, people are usually crying.  It happens every year.  It's a time of affirmation when we share our need for one another and thank God for the family He has given us.  This experience becomes more meaningful each year because of the inexorable march of time and its effect on the older generations among us.  We have been painfully aware in recent years that some special people are now absent from the family circle, Jim's parents and my uncle.  But we are grateful for each member of our small family who has survived another year.
Have something to say about this article? Leave your comment via Facebook below!
advertise with us
Example: "Gen 1:1" "John 3" "Moses" "trust"
Advanced Search
Listen to Your Favorite Pastors