Dear to Me
Wanda E. Brunstetter, Author
Tuesday, May 27, 2008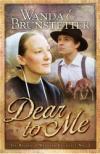 EDITOR'S NOTE: The following is an excerpt from Dear to Me by Wanda E. Brunstetter (Barbour Publishing).
Chapter 1
Melinda Andrews hurried across the grass, eager to arrive at her favorite spot. Just a few more steps, and there it was— dappled canopies of maple, hickory, cedar, and pine towering over a carpet of lush green leaves and fragrant needles. She drew in a deep breath, relishing the woodsy scent. The sun had tried all morning to overcome the low-hanging clouds. It had finally made an appearance, and Melinda planned to enjoy each moment she could spend here.
She slowed her pace and crept through the forest, being careful not to snag her long, dark blue dress or matching apron on any low-hanging branches. After awhile, she came to a clearing with several downed trees. "This looks like the perfect place for me to sit and draw," she murmured.
Taking a seat on a nearby log, Melinda pulled her drawing tablet and pencil from the canvas tote she'd brought along.
"Where are you, deer friends?"
The only movement was the flitter of leaves as the wind blew softly against the trees.
Melinda spotted a cluster of wild yellow crocuses peeking through a clump of grass. Spring was her favorite time of the year, with new life bursting forth everywhere. She lifted her pencil, ready to sketch a tan-colored rabbit that had hopped onto the scene, when two does stepped into the clearing.
"You're so beautiful," she whispered.
The does lifted their heads in curiosity as a hawk soared high overhead.
Melinda watched the deer nibble on leaves while she sketched their picture. Her stomach rumbled, which caused her to think about the lemon sponge cake Papa Noah had made last night. She'd had a sliver of it for breakfast this morning, and it had been delicious. She thought her stepfather was the best cook in all of Webster County, Missouri.
Melinda had been six years old when her real father had been hit by a car and killed. Shortly after his death, her mother had given up her career of telling jokes and yodeling among the English. She and Melinda had caught the bus from Branson to Seymour and come to live with Grandpa and Grandma Stutzman in the Amish community where Melinda's mother had been raised.
Even though Melinda had been young back then, she remembered many things about their arrival in Webster County. She especially recalled meeting her aunt, Susie Stutzman, for the first time. Susie was Grandma's youngest child, and she was a year older than Melinda. Melinda and Susie had become friends right away and had remained so ever since.
Melinda smiled at the memory of seeing her aunt dressed in a long blue dress with a small white kapp perched on top of her head. "Plain clothes" is what Mama had told Melinda. "My folks follow the customs and rules of the Amish church, and they live differently than we're used to living."
Melinda hadn't minded wearing the unusual clothes, for it seemed as if she were playing dress-up at first. The strange rules and numerous jobs Grandma Stutzman had expected her to do were the hardest part. She remembered, too, that Mama hadn't seemed too happy when they first came home—not until Noah Hertzler had started hanging around, taking an interest in her. Melinda had figured Noah would be her new daddy even before Mama had said she loved him. She'd been real pleased when they'd decided to get married.
Melinda lifted her face to the sun as thoughts of marriage made her think of Gabe Swartz, who had begun courting her a few months ago. Gabe had hazel-colored eyes with little green specks and brown hair that curled around his ears. He was tall and slender yet strong and able-bodied. Melinda had developed a crush on him when they were attending the one-room schoolhouse down the road.
Have something to say about this article? Leave your comment via Facebook below!
advertise with us
Example: "Gen 1:1" "John 3" "Moses" "trust"
Advanced Search
Listen to Your Favorite Pastors