Even God Rested - So You Should, Too
Whitney Von Lake Hopler, Contributing Writer
Wednesday, April 30, 2003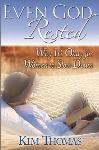 Rest.  How often have you longed for it?  If you're like most people, you're probably enticed by thoughts of rest fairly frequently.  Your weary spirit, mind, and body yearn for it.  But now consider: How often do you actually get the rest you long for?
Again, if you're like most people, probably not nearly as often as you need.  And if you're a woman, you might feel particularly guilty about taking time out of your busy schedule to rest.
But even God rested, and He wants you to rest, too, says Kim Thomas in her new book, "Even God Rested: Why It's Okay for Women to Slow Down."  Women, in particular, need to discover more about rest, Thomas says.  "It is my feeling that women in general are busy trying to prove their worth and significance, and rest doesn't seem to support that pursuit.  So instead, we spend ourselves at the expense of wholeness.  We missed the fact that God created us with a need for a certain specific rhythm of work and rest, and even invited us to that by modeling it for us."
When people think of resting, they often think simply in terms of dropping activities from their schedules or getting more sleep.  But Thomas' book expands that thinking.  She discusses how even things like contentment, sensing, mystery, beauty, and flexibility can help people rest -- in addition to topics more commonly associated with rest, such as balance, silence, positive thinking, leisure, slowing down, solitude, trust, prayer, and peace.  Throughout the book, Thomas places an equal emphasis on ceasing attitudes and behaviors that hinder rest and feasting on those that foster it.
"Rest is not merely the cessation of activity," she says.  "That is a more Eastern understanding, much like the understanding of meditation that has it's aim of emptying the person.  A Christian understanding of meditation has it's aim of emptying of self, but with the goal of being filled with the presence of Christ.  True and biblical rest follows a similar pattern.  In Exodus 31:17, we are told that God ceased his labor and rested and was refreshed.  The Hebrew for that word refreshed there is naphash, meaning refreshed as in 'a breath of fresh air.'  Breathing is composed of two parts, the inspiration and expiration.  To be refreshed and rested, we must have both the work of expiration, and then the filling of inspiration."
This holistic view of rest can open the door to the abundant life that God wants every woman to enjoy, says Thomas.  "Scripture tells us that God worked and labored for six days, but that on the seventh day, he ceased from his labors and feasted on the goodness therein.  He performed his best work for six days, and then stepped back to enjoy the results.  He ceased, and feasted.  We are often afraid of rest because we see it as simply the ceasing.  But God prescribed a rest that feasts on goodness, and therefore restores and refreshes.  It opens up a whole new way of seeing, a way of 'non-doing' that nurtures 'being'."
Personally, Thomas says, she had trouble learning how to rest, but is pleased with her progress so far.  "Being a perfectionist and overachiever by nature, I personally felt guilty about not "doing" something all the time.  It was as if rest had no intrinsic value and therefore didn't deserve a place in my schedule," she recalls.
Now, however, resting "has caused me to readjust my 'what is important' scale.  I have begun to value the simplicity of being in the quiet of His presence, and it's profound power to restore me.  And I have begun to see that as important, as a valuable … use of my time.  I think perhaps I have muted some of the noise and can start to hear the still, small voice again.  And as I develop this skill of rest, I probably become a better image-bearer of who God really is."
Have something to say about this article? Leave your comment via Facebook below!
advertise with us
Example: "Gen 1:1" "John 3" "Moses" "trust"
Advanced Search
Listen to Your Favorite Pastors