Experiencing the Truth
Anthony J. Carter, Author
Saturday, August 16, 2008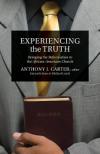 Calling the African-American Church Back
By positing Reformed theology as the truth worth experiencing in the predominantly black church, we are not attempting to re-invent the theological wheel. Instead we want to call the church back to the faith that has been articulated in the Scriptures and has long been advanced by the church (much of this truth has been ascribed in the church's historic creeds and confessions). The Reformation was successful not because it was new or promoted new revelatory knowledge. On the contrary, it was successful because in bringing back the glorious gospel of grace it sought God's glory through the recovery of his Word.
Michael Leach and Kenneth Jones have joined me in an effort to re-present Reformed theology to the predominantly African-American church.
Biblical theology (by Michael Leach). Mike begins the body of this book by laying the theological foundations for our proposal. He defines what biblical, experiential theology is. He then systematically and biblically sets forth the case for Reformed biblical theology and demonstrates how this theology is inherently experiential and best articulates the biblical view of what the church is and what it should be.
Biblical Preaching (by Anthony Carter). I define what biblical preaching is and how important it is to the church. I make the case for preaching that is Reformed, historical, and experiential. I also express the correlation between historic black preaching and Reformed theology and how the two naturally complement each other. In addition, appendixes 1 and 2 include some practical steps in sermon preparation, as well as a sample sermon.
Biblical Worship (by Anthony Carter). I address the subject of worship—its form and content in the church today. I define what biblical worship is and what it is not. I provide the case for Reformed, experiential, biblical worship within the predominantly African-American church and issue a plea to see the Word of God as central to all we do in worship. I also offer samples of orders of worship from predominantly black churches that hold to Reformed theology in appendix 2.
Biblical Spirituality (by Kenneth Jones). Ken Jones answers, How now should we live? In other words, Ken speaks of biblical sanctification. He looks at the development of African-American spirituality, its downturn, and the need for a biblical recovery. For this recovery, Jones sets forth true, biblical, Reformed, experiential spirituality that is based in a trust in the sufficiency of the inerrant Word of God.
A Reformation for this Generation
Our goal in this book is to add fuel to the fire that is this generation's glorious reformation. And this one must be summed up in the two Latin phrases that found prominence during the sixteenth-century Reformation: Post tenebras lux and non nobis Domine.
Post tenebras lux is translated "after darkness, light." This slogan identified the essence of the Reformation. Luther and the other reformers were not attempting to reinvent the church, only to shed light upon the darkness of its doctrine and worship. It was their belief that truth would win out over error, if truth would be known. Today we have the same conviction. The church does not need to be reinvented, God forbid. It once again needs the light of the truth that is the glorious and biblical doctrines recovered during the Reformation. The darkness that has enveloped the church will by God's grace and in his providence give way to a light—brilliant and wonderful. It is a light that is beginning to shine through this present darkness. What a great light it will be! As the prophet said,
"The people who walked in darkness have seen a great light; those who dwelt in a land of deep darkness, on them has light shined" (Isa. 9:2).
Non nobis Domine, translated "not to us, Lord," is taken from the first line of Psalm 115. The Reformers understood that if God were going to restore his glory and majesty to the church once again, it was going to be for his name and for his glory alone. And if God would visit his people, he would do so for his name and his glory alone. they knew that the glory of God was in the Gospel of Christ. Subsequently, they all with a singular voice wrote and preached, "Not to us, O L..., not to us, but to your name give glory" (Ps. 115:1). Today will be no different. the reformation that we pray and labor for in the church in general (and the African-American church in particular) is a reformation that will only come because God determines to glorify himself through us and to us, not for our glory, but for his alone. So we, like the magisterial reformers, proclaim and pray non nobis Domine. It is my prayer that it will be the undercurrent and foundation of all we write, preach, and pray.
Have something to say about this article? Leave your comment via Facebook below!
advertise with us
Example: "Gen 1:1" "John 3" "Moses" "trust"
Advanced Search
Listen to Your Favorite Pastors