Feelings and Faith: Introduction
Brian S. Borgman, Author
Tuesday, June 02, 2009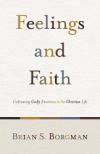 EDITOR'S NOTE: The following is an excerpt from
Feelings and Faith: Cultivating Godly Emotions
in the Christian Life by Brian S. Borgman (Crossway).
Introduction
She was angry. She was hurt. She was trying unsuccessfully not to cry. Gripping the tissue in her hand like a child's security blanket, she said, "Pastor, you don't understand; you don't know how it feels. The thought of his being with that woman grips my mind like an iron claw and it will not let go. I pray. I cry. I pray again. I do not want to think about it. But I can't help it. The thoughts create a hurricane of emotions. By the time he gets home from work I hate him all over again. I don't want him near me. I want him to die. I can't stand the way I feel."
***
With a trembling voice that seemed out of place in his massive, rugged frame, he said, "I would wake up and know that God was just waiting to kick sand in my face. If it was a really bad day, I figured God said, 'Forget the sand, I'll just kick your face.' The dark cloud of thinking that God loved other people but certainly did not love me sank me into a deep depression. If something good happened to me, I chalked it up to God playing with me so he could pull the rug out from under me. I believed God hated me, and my feelings would not let me believe anything else."
***
The pastor said with serious concern, "Scott, I notice you never sing during worship. May I ask why?" With a pseudo-philosophical tone he replied, "You know, I walk into church and see all these people lifting their hands, singing the songs, tears running down their face. Frankly, I am not into all that emotionalism. When I come to church I don't think I need to sing, and I certainly don't need to get all 'touchy-feely' with God. After all, you can't trust the emotions, and I am perfectly fine with worshiping God in my own way without all those gushy feelings."
***
The defiance was frightening. "I know what you are thinking. I know what you are going to say. But I can tell you right now that nobody has ever loved me like he has. Nobody has ever cared for me and listened to me like he does." The pastor gently yet firmly replied, "But he is not in the Lord; you know what the Word says about being unequally yoked." The rebuttal was undaunted, "I love him, and we are getting married. What do you expect me to do? I'm in love. I can't help the way I feel."
***
"Pastor, there is a joy I never knew before. To believe that God really cares about the way I feel and that he has changed the way I feel is amazing to me! I finally get it. God has opened my heart to be compassionate. I care about people. When I sing his praise, I feel a passion for his glory. There is a joy that comes, even when the Word cuts deep. For so many years, I felt emotionally dead to the things of God, but he has breathed something into me. My heart caught up with my head. I finally believe that God has all of me!"
***
What do these scenes have in common? It is quite simple. The emotions play a critical role in each person's thinking and behavior.
The unrelenting pain of unforgiveness, the poison of bitterness, the short breaths of anxiety, the cancer of lust, the devastation of volcanic anger, the ravages of insane jealousy, the inescapable ruts that lead to strife and broken relationships, habitual patterns that drag one into depression all have one thing in common: they are all related to our emotions.
Have something to say about this article? Leave your comment via Facebook below!
advertise with us
Example: "Gen 1:1" "John 3" "Moses" "trust"
Advanced Search
Listen to Your Favorite Pastors