Feelings and Faith: Introduction
Brian S. Borgman, Author
Tuesday, June 02, 2009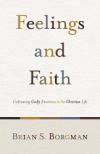 The tears of joy while singing God's praise, the conviction of sin during the preaching of the Word, the contentment that comes from holding your wife as you watch the sunset, the thrill that comes from seeing your son hit a home run during All-Stars, the satisfaction of a good day's work, and the sense of peace that flows from communion with God are also all related to our emotions. Matthew Elliott does not overstate the case when he says,
"Everything we do, say, and think is, in some sense, emotional. We enjoy it, we dislike it, or we just don't care. We describe our experiences and ourselves by describing how we feel. Life without emotions would be in black and white."1
But what can we do about the emotions? This is a huge question for me because as a pastor I am called to help people. I want to see them mature into Christlikeness and practical godliness. My desire is that they grow into mighty oaks of righteousness as moms and dads, husbands and wives, sons and daughters, employers and employees, followers of Jesus in a hostile world. As a result, I need to help people deal with anger, lust, bitterness, and envy and grow in faith, joy, peace, and contentment. If I do not see that the emotions play a crucial role in all of life, then I am a blind guide. Martyn Lloyd-Jones observed:
I regard it as a great part of my calling in the ministry to emphasize the priority of the mind and the intellect in connection with the faith; but though I maintain that, I am equally ready to assert that the feelings, the emotions, the sensibilities obviously are of very vital importance. We have been made in such a way that they play a dominant part of our make-up. Indeed, I suppose that one of the greatest problems in our life in this world, not only for Christians, but for all people, is the right handling of our feelings and emotions. Oh, the havoc that is wrought and the tragedy, the misery and the wretchedness that are to be found in the world simply because people do not know how to handle their own feelings! Man is so constituted that the feelings are in this very prominent position, and indeed, there is a very good case for saying that perhaps the final thing which regeneration and the new birth do for us is just to put the mind and the emotions and the will in their right positions.2
Have you ever wondered why so many of God's people stay stuck as stunted saplings instead of growing into mighty oaks in the Lord? Why is it that people who attend good Bible-teaching churches with sound doctrine often fail to progress, even though well taught? Why do certain sins cling like sap from an evergreen, while certain fruits of the Spirit barely dangle from the branch? I propose that one of the reasons is that we do not have a biblical understanding of our emotions, and therefore there is little or no biblical handling of the emotions. We try to treat symptoms and fail to get to the root of the matter.
We are under a twofold obligation to understand our emotions. First, the emotions are a biblical subject. Since the Bible has much to say about the emotions, it is imperative for us to understand what it teaches. Whenever God speaks, on whatever subject he addresses, we are obliged to listen and learn. Second, the emotions are a deeply personal subject, playing a prominent role in each of our lives. Therefore, it is vital to understand what the Bible has to say for our own personal maturity.
It is only when we gain a biblical perspective on this significant part of our humanity that we can begin to grow and put the mind and the emotions and the will in their right positions. As we learn to understand and handle our emotions biblically, we begin to mature in new ways. My pastoral experience has taught me that a biblical understanding of the emotions and the application of these truths can become a virtual greenhouse for spiritual growth and maturity.
Have something to say about this article? Leave your comment via Facebook below!
advertise with us
Example: "Gen 1:1" "John 3" "Moses" "trust"
Advanced Search
Listen to Your Favorite Pastors