Feelings and Faith: Studying the Character of God
Brian S. Borgman, Author
Tuesday, June 09, 2009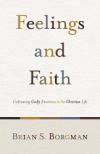 In Isaiah 42:1, Yahweh says, "Behold my servant, whom I uphold, my chosen, in whom my soul delights; I have put my Spirit upon him; he will bring forth justice to the nations." In this first Servant Song from Isaiah,7 the Father identifies the Messiah as his servant and his chosen. He is the one who is in subjection to the will of the Father and the one who will fulfill the purpose of the Father. Then the Father says that his soul delights in this chosen servant. The Hebrew word (ratzah) denotes a sense of being pleased with, taking delight or pleasure in. It is truly hard to imagine how this inter-Trinitarian language could be stripped of emotion. The text compels us to see that the Father infinitely values his Son. The text reverberates with his feelings of pleasure in his Son, who humbled himself in the incarnation to manifest the love of his Father and fulfill his purpose.
At the beginning of our Lord's earthly ministry and at the very end we have bookends of the Father's unbounded delight in his Son. At Jesus' baptism we read, "Behold, a voice from heaven said, 'This is my beloved Son, with whom I am well pleased'" (Matt. 3:17). In our Lord's High Priestly Prayer we hear him say, "Father, I desire that they also, whom you have given me, may be with me where I am, to see my glory that you have given me because you loved me before the foundation of the world" (John 17:24). John Piper has beautifully stated,
We may conclude that the pleasure of God in His Son is pleasure in Himself. Since the Son is the image of God, and indeed is God, therefore God's delight in the Son is delight in Himself. The original, the primal, the deepest, the foundational joy of God is the joy He has in His own perfections as He sees them reflected in the glory of His Son. Paul speaks of "the glory of God in the face of Christ" (2 Corinthians 4:6). From all eternity God has beheld the panorama of His own perfections in the face of His Son. All that He is He sees reflected fully and perfectly in the countenance of His Son. And in this He rejoices with infinite joy.8
God Delights in Justice and Righteousness
After the trial and execution of one of the most ruthless dictators of the modern world, I told my family, "Justice was done and we ought to give thanks." Why give thanks at something as gruesome as that? The reason is that Yahweh delights in justice and righteousness. He delights when his creatures demonstrate it. When a court hands down a just verdict, when a judge delivers a righteous sentence, when a man does a just act or a righteous deed, God is pleased. He loves justice because he is just. He loves righteousness because he is righteous. He has a passion for justice and righteousness. When his creatures reflect something of his character by exercising justice and righteousness, he delights in and loves such displays.
Psalmists and prophets echo this theme repeatedly. "He loves righteousness and justice; the earth is full of the steadfast love of the Lord" (Ps. 33:5). "For I the Lord love justice; I hate robbery and wrong; I will faithfully give them their recompense, and I will make an everlasting covenant with them" (Isa. 61:8). "But let him who boasts boast in this, that he understands and knows me, that I am the Lord who practices steadfast love, justice, and righteousness in the earth. For in these things I delight, declares the Lord" (Jer. 9:24). This both resonates with and scares us.
God Rejoices in His People If we are listening, we constantly hear notes about how worthy we are, how we really are "all that" and a whole lot more. The notes play repeatedly in Christian books, sermons, and music. Our Christian pop music overflows with unbiblical perspectives on how worthy we are. There is a shallow, sentimental, "It's all about me" mentality. However, in our reaction to this unbiblical emphasis, wanting to underscore human depravity and wickedness, we may end up missing an important truth about how God feels about his people. God actually values and rejoices in his people, not because of who we are in ourselves, but because of what he has made us by his grace. In the words of Casting Crowns:
Have something to say about this article? Leave your comment via Facebook below!
advertise with us
Example: "Gen 1:1" "John 3" "Moses" "trust"
Advanced Search
Listen to Your Favorite Pastors