Feelings and Faith: Studying the Character of God
Brian S. Borgman, Author
Tuesday, June 09, 2009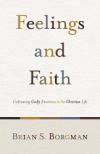 Not because of who I am, but because of what You've done.
Not because of what I've done, but because of who You are.9
Listen to the language of love and passion welling up within God:
For as a young man marries a young woman,
so shall your sons marry you,
and as the bridegroom rejoices over the bride,
so shall your God rejoice over you. (Isa. 62:5)
The Lord your God is in your midst,
a mighty one who will save;
he will rejoice over you with gladness;
he will quiet you by his love;10
he will exult over you with loud singing. (Zeph. 3:17)
"I will give them one heart and one way, that they may fear me forever, for their own good and the good of their children after them. I will make with them an everlasting covenant, that I will not turn away from doing good to them. And I will put the fear of me in their hearts, that they may not turn from me. I will rejoice in doing them good, and I will plant them in this land in faithfulness, with all my heart and all my soul." (Jer. 32:39–41)
The language in these texts soars with emotion. When God wants to communicate how he feels about his people, he puts it in terms that are already emotionally percolating for us. The groom sees the bride; his heart leaps within, racing with excitement. He expresses his passionate delight in his people with words such as "rejoice over you with gladness." He paints the picture of being quiet over us with his love, as a parent lovingly yet quietly looks at his child. God goes from quietness to loud, joyful singing. Imagine, God singing for joy over his people! Jeremiah uses "all my heart and all my soul." The language throbs with emotional imagery, capturing God's deep feelings for his people.
God Takes Pleasure in Himself, His Ways, His Grace, and His People's Obedience
Psalmists, sages, and apostles celebrate these pleasures of God. "Our God is in the heavens; he does all that he pleases" (Ps. 115:3). "When a man's ways please the LORD, he makes even his enemies to be at peace with him" (Prov. 16:7). "I have received full payment, and more. I am well supplied, having received from Epaphroditus the gifts you sent, a fragrant offering, a sacrifice acceptable and pleasing to God" (Phil. 4:18; see also 1 Thess. 4:1). "[He] predestined us to adoption as sons by Jesus Christ to Himself, according to the good pleasure of His will" (Eph. 1:5, NKJV).
God takes pleasure in his own will. What he wills to do pleases him, and what pleases him he wills to do. He delights in the obedience and generosity of his people as a reflection of his own grace. He took pleasure in freely adopting his children into his family, apart from any virtue in them. Again, the pleasure is the emotion of joy and delight in doing his will, demonstrating his sovereign grace and seeing his grace at work in his people. God is indeed the blessed God (1 Tim. 1:11). He is the eternally joyful, authentically happy God, who overflows with delight in his own perfections as they are perfectly reflected in his Son and imperfectly and dimly reflected in his creatures.
God Grieves and Experiences Pain and Sorrow
Just as God has joyful feelings, he also has emotions of grief, sadness, sorrow, and even pain. These emotions need to be qualified of course, but there is no need to relegate them to mere figures of speech.11 We cannot miss the depth of feeling in these passages. The unrestrained depravity at the time of Noah grieved God:
The LORD saw that the wickedness of man was great in the earth, and that every intention of the thoughts of his heart was only evil continually. And the LORD was sorry that he had made man on the earth, and it grieved him to his heart. (Gen. 6:5–6)
Have something to say about this article? Leave your comment via Facebook below!
advertise with us
Example: "Gen 1:1" "John 3" "Moses" "trust"
Advanced Search