Feelings and Faith: Studying the Character of God
Brian S. Borgman, Author
Tuesday, June 09, 2009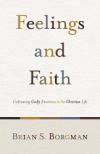 Even as God loves justice, so he despises injustice, especially injustice done to the helpless of society: the widows, orphans, and unjustly divorced wives. There are certain sins for which God has a special hatred. As a holy God he also has a perfect loathing of evildoers and those who are willfully ignorant and will not trust him. Although there is a biblical doctrine of God's universal love, it should not be too hard to understand that the God of perfection is a complex being who transcends our ability to comprehend. That God can love and hate the same object at the same time is a reflection of his incomprehensibility and emotional complexity. "God does not love the sinner and is angry at the sin. Rather, God loves the sinner and is angry at the sinner when he sins."13 All theological nuances aside, the words used in these texts pulsate with the emotion of anger.
God Is Compassionate
My wife surpasses me in a multitude of Christian graces and virtues. She is far more spiritual than I am. One of the graces in which she surpasses me is compassion. Although there have been many times when I have felt pity for someone who was in a dire situation, my wife seems to have a consistent sense of compassion that compels her to action again and again. In this, she is much more like her heavenly Father than I am. It is beautiful. The Bible does indeed celebrate God's compassion:
"I will make all my goodness pass before you and will proclaim before you my name 'The LORD.' And I will be gracious to whom I will be gracious, and will show mercy on whom I will show mercy." (Ex. 33:19)
As a father shows compassion to his children, so the Lord shows compassion to those who fear him. (Ps. 103:13)
"Can a woman forget her nursing child,
that she should have no compassion on the son of her womb?
Even these may forget,
yet I will not forget you.
Behold, I have engraved you on the palms of my hands;
your walls are continually before me." (Isa. 49:15–16)
The Hebrew word racham, used in each of the above passages and often translated "show mercy," is the word for compassion. It is a word of intense feeling and deep tenderness. It is a gut-level word, communicating a depth of emotion. This depth of feeling is vividly painted for us in the Isaiah passage. The Lord uses the deepest attachment known by humans, a mother and her nursing child. A nursing child derives its very life from its mother. The bond is almost mystical. This is a transcultural experience. It is universal.
The bond between mother and child is the most fundamental, affectionate, tender, inviolable bond we know. And yet "the love of the Lord transcends in permanence the best earth can offer."14
God Is Loving
God's love obviously relates to his compassion. However, there is a unique emphasis in the Bible on God's love. It is the love of God that is most closely connected to the gospel itself.
The Lord appeared to him from far away.
I have loved you with an everlasting love;
therefore I have continued my faithfulness to you. ( Jer. 31:3)
Who is a God like you, pardoning iniquity
and passing over transgression
for the remnant of his inheritance?
He does not retain his anger forever,
because he delights in steadfast love.
He will again have compassion on us;
he will tread our iniquities underfoot.
You will cast all our sins
into the depths of the sea.
You will show faithfulness to Jacob
and steadfast love to Abraham,
as you have sworn to our fathers
from the days of old. (Mic. 7:18–20)
And of course the most famous verse in all of the Bible:
Have something to say about this article? Leave your comment via Facebook below!
advertise with us
Example: "Gen 1:1" "John 3" "Moses" "trust"
Advanced Search
Listen to Your Favorite Pastors