Feelings and Faith: Studying the Character of God
Brian S. Borgman, Author
Tuesday, June 09, 2009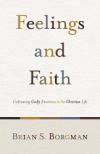 For God so loved the world, that he gave his only Son, that whoever believes in him should not perish but have eternal life. (John 3:16)
We do a grave disservice to God when we say his love has nothing to do with feelings or the emotions. We diminish the dignity of God's person when we unwittingly relegate love to mere actions of goodwill or self-sacrifice. Such a definition of love is absolutely excluded by 1 Corinthians 13:3. The Bible condemns noble, altruistic deeds apart from love, so how can love simply be noble deeds apart from feelings? God's love has a strong emotional element to it. Whatever fragmented notes of beautiful feelings may be found in our love, these are merely distant echoes of the thunderous symphony of God's love.
This is a very brief survey, but the texts speak for themselves. They are a powerful testimony to the emotions of God. This is a significant theological foundation, which has important ramifications. God is not a static being (immutability does not mean static); he is a dynamic, personal being, possessing within himself perfect knowledge, a perfect will, and perfect emotions. He loves, he hates, and he rejoices. He is pleased, displeased, grieved, and angered. He has compassion, love, and pleasure. He interacts with and responds to his people within the framework of both a sovereign decree and perfect emotions, which reflect his values and evaluations, and influence his conduct toward them.
We are made in the image and likeness of God. In order for us to understand ourselves, we must understand God. Although there is an infinite distance between the transcendent, majestic, exalted God and us, his creatures, we can look to God and see the perfect, eternal one who possesses the glorious capacity to feel. In that capacity, he shows the dignity of his person and that we were made not only to think and do but also to feel. "Emotions are a good and legitimate part of man's character because they are clearly part of God's character."15
Feelings and Faith: Cultivating Godly Emotions in the Christian Life
Copyright 2009 by Brian S. Borgman
Published by Crossway Books, a publishing ministry of Good News Publishers
1300 Crescent Street Wheaton, Illinois 60187
All rights reserved. No part of this publication may be reproduced, stored in a retrieval system or transmitted in any form by any means, electronic, mechanical, photocopy, recording or otherwise, without the prior permission of the publisher, except as provided for by USA copyright law.
Have something to say about this article? Leave your comment via Facebook below!
advertise with us
Example: "Gen 1:1" "John 3" "Moses" "trust"
Advanced Search
Listen to Your Favorite Pastors