Financial Author Is Living Proof That Our Redeemer Lives
Jody Brown, AgapePress
Saturday, February 28, 2004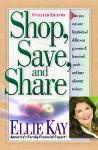 Where does a mother with five children at home find the time and the energy to write a book, much less four of them within one year?  Author Ellie Kay, who says she has always had a high energy level, attributes the other aspect to one source: God, she says, has redeemed the time.
Ellie Kay had never had anything published – not a column, not an article, not even a letter to the editor.  Then came her first book, "Shop, Save, and Share," published by Bethany House in 1998.
"Most writers start writing articles or columns or they start getting into major periodicals and then eventually they have a speaking ministry or something, and then they branch out beyond that   – and they get a book, eventually," she explains.  "Whereas with me, I got a book first."
While "Shop, Save, and Share" – an updated version which hit the shelves in January 2004   – offers practical advice on family budgeting and "coupon clipping," it emphasizes the Christian's unique call to stewardship and sharing with others.  The book went on to become a best-seller, surprising both the author and publisher.
"God had a plan for that," she says, explaining that her contacts at Bethany House sat down to evaluate why a book written by an unknown author with no huge national ministry sold so well, "and there was a 1 percent chance that I would even get published, much less have the book go on to become a best-seller," she adds.
The publisher's explanation?  "The people at the publishing house were talking about it and they said, 'Wow, it must be God.' And I thought, 'Yes! That's the right answer – it is God.'"
And it's apparent that God has continued to bless Kay's energetic endeavors and to redeem her time. "Shop, Save, and Share" was followed by "How to Save Money Every Day" (2001), "Money Doesn't Grow on Trees: Teaching Kids the Value of a Buck" (2002), "Heroes at Home: Help at Home for America's Military Families" (2002), and "The New Bride Guide: Everything You Need to Know for the First Year of Marriage" (2003) – all published by Bethany House.
When Kay's first book was published, she had five children at home under the age of 10 and was home-schooling. She recalls telling God at that time she wasn't sure she was supposed to write books – and she wasn't sure she had heard Him correctly.
"I can't do this. Even being extremely efficient [which her husband attests to] and having a high energy level, I don't know how I'm going to do it," she remembers telling the Lord. "But if You want me to do this, I'll be faithful and obedient. So You're going to have to do this through me."
Have something to say about this article? Leave your comment via Facebook below!
advertise with us
Example: "Gen 1:1" "John 3" "Moses" "trust"
Advanced Search
Listen to Your Favorite Pastors