Speaking to God through A Guidebook to Prayer
MaryKate Morse
Tuesday, November 19, 2013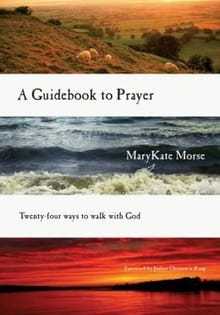 *Editor's Note: The following is an excerpt from A Guidebook to Prayer by MaryKate Morse.

Community Prayer
The God revealed in the Christian Scripture is,
in essence, plurality in oneness: three persons in one being,
Father, Son, and Holy Spirit, all eternally bonded together in
the original community of oneness, in the embrace of the
interpersonal dynamics that the Bible describes best when it
summarily affirms that "God is love" (1 John 4:8, 16).
Gilbert Bilezikian
Insects crawl
Fish swim
Birds fly
Humans pray.
Leonard Sweet
God as One in Community
When you meet people for the very first time, you immediately begin gathering impressions about them. Are they quiet? Outgoing? Content? Sad? If you were to open the Bible for the very first time and you knew nothing about God, you would meet the God of Genesis 1 and 2. In the beginning of Scripture, God is known as the Creator in Community. God creates out of nothing and makes it good. And God creates in community and for community. The very first way that we know God is that God made us and made us for connection.
Then God said, "Let us make humankind in our image, according to our likeness; and let them have dominion over the fish of the sea, and over the birds of the air, and over the cattle, and over all the wild animals of the earth, and over every creeping thing that creeps upon the earth."
So God created humankind in his image, in the image of God he created them; male and female he created them. (Gen 1:26-27)
Then the Lord God said, "It is not good that the man should be alone; I will make him a helper as his partner." (Gen 2:18)
Being made in the image of God, we are designed for relationship with our Maker and with each other. It is not good for us to be alone. God desires connection with us, and we desire connection with God and others. Prayer is the simplest and most intimate way in which we can connect to God. Because we are made in God's image and God is manifested in the Trinity as God the Father, the Holy Spirit, and Jesus Christ, one in three Persons, we too are most alive and most true to ourselves when we are in community. C. Baxter Kruger, trinitarian theologian (and fishing lure designer) wrote this:
"God is not some faceless, all-powerful abstraction. God is Father, Son and Spirit, existing in a passionate and joyous fellowship. . . . The Trinity is a circle of shared life, and the life shared is full, not empty, abounding and rich and beautiful, not lonely and sad and boring. The river begins right there, in the fellowship of the Trinity.1"
Psychologists and social scientists have conclusively observed that the emotional attachment of a healthy, loving parent with his or her child results in a healthy, loving child. When we are unable to attach for whatever reason, our mental health is unstable and our outlook on the world and on ourselves is skewed. God is perfectly whole and loving, and when we relate to God our lives begin to resonate with God's character and nature. When we pray with others, we become in tune to each other. In the Garden of Eden, God would walk and talk with Adam and Eve. They would visit each day. It was a completely natural and even ordinary relationship.
We are created to be in relationship with God and others, so we are always seeking stabilization with others. Our humanity is precisely this—that we are most human when we connect. God as our Creator is most able to provide a foundation of love and worth in the midst of life's challenges when we connect regularly to God. In the same way that we greet our loved ones each day, we greet God. In the same way we call and check in, we connect to God. With prayer we are bonded to our Maker and Sustainer.
Recently on First Chapters
Have something to say about this article? Leave your comment via Facebook below!
advertise with us
Example: "Gen 1:1" "John 3" "Moses" "trust"
Advanced Search
Listen to Your Favorite Pastors