Speaking to God through A Guidebook to Prayer
MaryKate Morse
Tuesday, November 19, 2013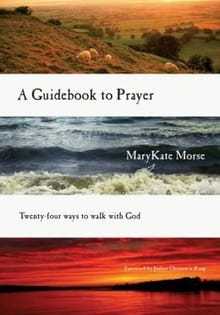 Move to the Amidah—the experience of standing and praying together in community when we are seeking God. We each seek a special place to experience our own "burning bush." During this part of the prayer, speak the psalm out loud but to yourself. We each audibly say the psalm at our own pace. We enter into the experience as individuals but with others saying the same verses at their own pace. The pray-er can take three steps forward and bow, signifying respect for Almighty God. Upon conclusion of each reading of Psalm 145, the pray-er takes three steps back. When ready, move forward again three steps and repeat the process until you have said Psalm 145 three times. The experience is over when everyone has finished and a designated leader says, "Amen."
After the prayer discuss in small groups about the prayer time. What was meaningful? What was difficult? How did you experience God and the others who were praying? What aspects of community prayer might enhance your personal prayer life?
Partner Experience
For Jewish people each day of the week has a particular psalm: Sunday is Psalm 24, Monday Psalm 48, Tuesday Psalm 82, Wednesday Psalm 94, Thursday Psalm 81, Friday Psalm 93 and Saturday Psalm 92. Start by using these psalms. If you want to continue for subsequent weeks you can choose your own psalms to pray, or you may begin with Psalm 1 and complete one each day, or follow the psalms in the daily lectionary.
Stand and say the psalm aloud three times (unless you have chosen one of the longer psalms, then adjust which sections you plan to read aloud). If you would like, take three steps forward at the beginning of the psalm, and three steps back at the end of each psalm as preparation for entering God's presence.
Plan to meet with your prayer partner as many days of the week as you can to pray the psalm for the day together. If you cannot meet physically, pray the psalm together on the phone or Skype or with an electronic device that allows for a face-to-face encounter.
Remember these psalms were prayed by Jesus and in worship together with his disciples. Discuss your experience together. Did any words or phrases resonate with you? Did anything cause you confusion? Sometimes God speaks to us in the quiet and sometimes in the questions.
Individual Experience
Pray the psalm for the day by yourself and aloud following the same pattern of standing, taking three steps forward and then back at the end of the psalms as explained in the group experience above. Journal about your experience. What drew you to God today or helped you with your spiritual walk?
You may also use the Book of Common Prayer and follow the prayers for the day. There are many wonderful books with daily prayers and Scripture, such as Common Prayer: A Liturgy for Ordinary Radicals and Celtic Daily Prayer. A suggested list is found at the end of the chapter.
If you like the idea of praying with others but are unable to, you may find a prayer place online, such as missionstclare.com, which has a recorded choir and music for hymns. Sacredspace.ie is an online site that guides you through small prayers, questions and meditations. Many others such as Christianprayers. com and prayergroup.org respond to your prayer requests and allow you to pray with persons around the world. Pray-as-you-go.org allows you to download daily prayers.
The Prayer Journey
Mark Franklin
When you pray, you are never alone. These simple words at the end of the daily prayers on sacredspace.ie launched me on a new perspective on prayer. The totally obvious yet mind-shattering revelation that other people, perhaps a great number of people, were concurrently participating in prayer with me shook me out of my fixed view of prayer. It is not, after all, between me and God— it is between me and God and everyone else in the world who is praying. I am humbled because I am now unable to pray without remembering I am but one of a vast multitude before the throne of God.
Recently on First Chapters
Have something to say about this article? Leave your comment via Facebook below!
advertise with us
Example: "Gen 1:1" "John 3" "Moses" "trust"
Advanced Search
Listen to Your Favorite Pastors