Excerpts From An Amish Miracle
Beth Wiseman, Ruth Reid, Mary Ellis
Thursday, November 28, 2013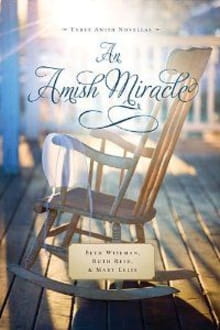 EDITOR'S NOTE: The following are excerpts from An Amish Miracle by Wiseman, Ruth Reid, and Mary Ellis
Always in My Heart
Paradise, Pennsylvania
Stephen Bowman switched off the generator, swiped his brow with a handkerchief, and straightened his spine. Not even nine o'clock and the July day was already sweltering. Since dawn he had milked, fed, and watered the animals and turned them out to pasture. The milk was now stored in the cooling room, awaiting pickup, and he was ready for breakfast. He headed for the house, his stomach rumbling. What might his fraa have made this morning? Buttermilk pancakes swimming in maple syrup? A mushroom omelet covered with melted cheddar?
Maybe a thick slab of ham with an over-easy egg on the side? He entered the kitchen to find a box of cornflakes on the table, along with a banana. The pot of coffee had grown cold on the stove. After thirteen years, he knew his fraa well. Hope usually only served a cold breakfast when pressed for time or when—
Stephen bolted toward the front room. "Hope?"
His wife sat in the rocking chair with her sewing basket at her Mary Ellis feet. Sweat beaded at her hairline. The tiny white kapp she'd been crocheting lay abandoned in her lap.
"When did the contractions start?" He tried to keep his voice calm so as not to frighten his daughters. The three girls sat on the couch staring at their mother and holding hands. Hope said nothing for at least half a minute. Then she spoke through gritted teeth. "A few . . . hours ago."
"Why didn't you send Josie to the milking parlor for me?" His glance flickered to his eldest dochder, who peered up at him through thick lashes."
Thought I had plenty of time to finish this kapp and pair of booties." Her speech improved as the contraction loosened.
"You know what the doctor said. Things move along faster with each new bundle of Bowman joy." Stephen chucked his youngest child under the chin. Little Greta's green eyes sparkled as she giggled.
"True enough, but I still thought I had enough time. No sense dragging Jane Beachy out too soon." Hope's voice returned to normal, and her fingers released their grip on the chair. "She has her own family to tend."
"Midwives are accustomed to being called out at all hours of the day or night. At least she's not sleeping at this hour. I'll leave now to fetch her."
"May I ride with you, Daed?" asked Josie. She scrambled from her position on the couch to land on the floor near Hope's feet. "I could help Jane carry in things."
"Nee." Stephen gave her kapp ribbon a pull. "You stay and help mamm get things ready." He felt himself blush. Discussing babies-on-the-way was not a proper topic between father and daughter.
"You understand God is bringing us another boppli?" He peered at one pair of rounded eyes after another.
"Of course I do," she said, as though mildly insulted.
"Ya," replied the younger two, heads nodding. "Mamm said so. Bruder this time?" asked seven-year-old Emily.
"We'll soon find out." He buzzed a kiss across his wife's kapp. "I'm off. Put down your sewing, fraa. I believe you should start moving in the direction of our bedroom. But don't pick up a paintbrush to give the kitchen a fresh coat."
Stephen smiled at the memory of a woman in their district who decided to paint a room during labor. Things happened so fast she gave birth in their bathtub, assisted solely by her eldest daughter. By the time the midwife arrived, the mother had been bathed and was resting comfortably with her new son sleeping in the crook of her arm.
Recently on First Chapters
Have something to say about this article? Leave your comment via Facebook below!
advertise with us
Example: "Gen 1:1" "John 3" "Moses" "trust"
Advanced Search
Listen to Your Favorite Pastors