Craving More Energy: Energizing Food and Faith Recipes
Shari Rose Shepherd
Tuesday, January 08, 2013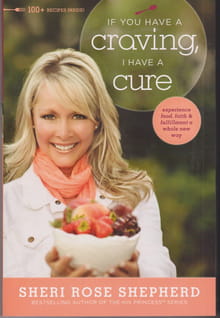 EDITOR'S NOTE: The following is an excerpt from If You Have A Craving, I Have A Cure by Sheri Rose Shepherd.

Chapter 1
Craving More Energy: Energizing Food and Faith Recipes
When I was about to turn forty, I took a personal inventory of all the things I was investing my time in. I then prayed and purposed to delete anything that was draining my strength and energy. Just when I thought I had it all figured out, God gave me and my husband a surprise: I became pregnant with a baby girl.
Now, don't get me wrong, I was excited, but it had been eleven years since I'd had a baby, and at the time I barely had enough energy to make it through each day. Then the reality hit me: when I would be going through menopause, my daughter would be entering her teen years. I looked up toward God and asked, Where am I going to find the energy to run a ministry and raise a daughter at the same time?
If I was craving more energy before I discovered I was pregnant, I wondered how I would manage my responsibilities now.
Soul Food
---
For I can do everything through Christ, who gives me strength. - Philippians 4:13
If we can do all things through Christ, why are we so often exhausted?
To be honest, I think the two things that wear us out most are, first, trying to live in our own strength and, second, attempting to play the junior Holy Spirit. By that I mean we try to control everything in our lives and the lives of those we love. God has wired us to notice situations requiring change and needs that should be met. When He is truly guiding us to take action, He provides the energy and the grace we need to do what we could never do in our own strength. At times, though, we take on burdens He never meant for us to carry.
The truth is, as long as we try to control everything around us, we will feel out of control and overwhelmed. So the first step to gaining energy is to take a deep breath right now and speak these energizing words: "He is God. . . . I am not!" or "I surrender to You, God. Take control and lead me!" God has not called us to burn ourselves out; in fact, one of the things I've learned in my life is that if the devil can't make us bad, his next trick is to make us busy so he can burn us out.
Today my daughter, Emily, is a teenager, and, yes, I do have hot flashes. I find myself desperate every day for more energy and more of God's grace in my life. Maybe you're in a place where you, too, are living out one of God's surprises. Perhaps you're being forced to live a life you never asked for, or maybe you're just sick and tired of being sick and tired. In any event, if you're ready for an energy breakthrough, I encourage you to try three simple practices that have helped give me more energy and renewed passion and joy in spite of the stresses of everyday life.
New Life Recipies
---
1. Exercise
Physical training is good, but training for godliness is much better, promising benefits in this life and in the life to come. - 1 Timothy 4:8
Recently on First Chapters
Have something to say about this article? Leave your comment via Facebook below!
advertise with us
Example: "Gen 1:1" "John 3" "Moses" "trust"
Advanced Search
Listen to Your Favorite Pastors