Desert Gift
Sally John, Author
Wednesday, June 29, 2011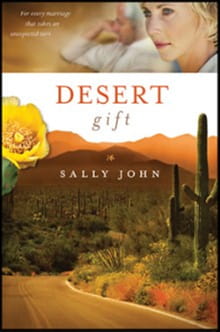 "Like I care. Stand still and talk to me."
Ignoring her friend, Jill rolled her luggage hastily toward the car, calling out to the guard. "We're here! We're coming."
"You can't park there, ma'am."
"Got it!"
Nodding, he strode past.
Gretchen muttered to herself, aiming her key ring at the car. "Can't even park for five minutes. Curses on terrorists everywhere." The trunk popped open. Together they loaded the cases. "What do you mean he didn't feel like coming? I just saw him on Sunday. He was looking forward to his vacation."
"Yeah, well, evidently his vacation wasn't this one."
"Is it because of his car accident on Tuesday night?"
"That was no big deal. Few stitches on his head. He put on his Cubs hat and went back to work the next morning. The thing is, he said he . . ." Lockjaw set in again. Jill forced the words through clenched teeth. "He said he wants a divorce."
Gretchen gasped.
Jill slammed the trunk lid shut. "He got sick. Hormones, midlife gear switching, flu, whatever. He'll get better."
"No. Way. You're spinning this, aren't you? You're making it palatable. Next you're going to say God works all things together for good."
"Well, He does. Meanwhile, you and I have our own work to do."
"Jillian Galloway, this is huge. A divorce? Oh, my gosh! Why aren't you bawling your head off?"
"I already did, somewhere over Colorado."
"Malarkey. Your mascara isn't smudged, not even a tiny bit."
"Fixed it over Nevada."
"Oh, Jillie."
"Ladies!" The security guard neared again, making a show of flipping open his ticket pad.
They hurried around to the car doors and climbed inside.
Within moments Gretchen eased the car into the traffic. She sighed heavily. "Don't you ever get tired of squeezing the lemons? We do not need any lemonade, sweetums. Not today."
Jill disagreed. She would have said so, but her jaw was too busy forming itself around a wail.
Copyright © 2011 by Sally John. All rights reserved.
Published in association with the literary agency of Alive Communications, Inc., 7680 Goddard Street, Suite 200, Colorado Springs, CO 80920, www.alivecommunications.com.
Scripture quotations are taken from the Holy Bible, New Living Translation, copyright © 1996, 2004, 2007 by Tyndale House Foundation. Used by permission of Tyndale House Publishers, Inc., Carol Stream, Illinois 60188. All rights reserved.
This novel is a work of fiction. Names, characters, places, and incidents either are the product of the author's imagination or are used fictitiously. Any resemblance to actual events, locales, organizations, or persons living or dead is entirely coincidental and beyond the intent of either the author or the publisher.
Visit Tyndale's exciting Web site at www.tyndale.com.
Check out the latest about Sally John at www.sally-john.com.
TYNDALE and Tyndale's quill logo are registered trademarks of Tyndale House Publishers, Inc.
Recently on First Chapters
Have something to say about this article? Leave your comment via Facebook below!
advertise with us
Example: "Gen 1:1" "John 3" "Moses" "trust"
Advanced Search
Listen to Your Favorite Pastors