Faith in the Land of Make-Believe
Lee Stanley, Author
Wednesday, March 30, 2011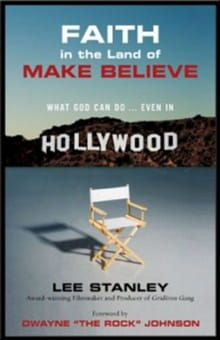 "How many kids are here?" I asked Mr. Rhodes.
"One-twenty," he said without turning, his voice flat and cold.
As the silent squad of prisoners neared, my tour guide's strange gait amplified, and he purposefully worked his baggy jeans lower and lower until his butt crack was in plain sight.
"You're saggin', Rhodes!"
A voice bellowed over the yard's loudspeaker. Rhodes pulled up his baggy jeans with one hand, slowly.
"And stop strollin'!"
My escort cursed under his breath and continued walking, minus the strange gait. He spat, not quite clearing his chin, and wiped it off with the back of his scarred fist.
Trying to ease the tension, I pointed to a building that was obviously a gym and asked, "What's that over there?"
"Gym!"
"Can I ask you something else?"
Mr. Rhodes slowed to a stop, his mad-dog stare trying to bore holes in my head.
"How old are you," I continued, "seventeen, eighteen?"
"I'll be eighteen in a minute," he claimed, puffing up his chest and sneaking an admiring glance at his muscled arms.
I thought I was about to get coldcocked, so I quickly continued. "I don't know why you're locked up, but to my understanding, they cut you loose when you're eighteen. You got a whole life ahead of you. What are you going to do with it?"
His eyes squinted as if he'd never considered a future.
"You can be anything you want to be — doctor, welder, probation officer, even a filmmaker." I watched as curiosity began to creep onto his face. "Juvenile records are confidential, right?" He nodded, almost childlike. "No one ever has to know that you messed up."
I felt like I was talking at myself.
...
At age nineteen, I hopped a twin-engine commercial "tail dragger" out to the West Coast via Chicago after "messing up." I arrived in Burbank, California, on a foggy May morning with fifty-five bucks in my pocket, a small tattered suitcase stuffed with a -couple pairs of Levis, T-shirts, fins, mask, snorkel, and scuba regulator — and no plans. I'd left Connecticut after taking a smack in the face from my mother and being told to go to hell. I was trying to escape my reputation: You're a damn bum, and everybody knows you're a damn bum!
I'd already dropped out of college, and I had no plans. I realized that no one ever taught me how to be a man, a husband, or a father, and I was scared to death that somebody would find out.
"What you doing in California?"
An elderly black man, sucking on a well-worn pipe, was emptying trash cans at the Burbank Airport where I was waiting for a Greyhound bus. He had a peaceful way about him.
"Do some scuba diving, write articles for adventure magazines. Stuff like that."
The answer sounded good to my ears — in California I could pretend to be anybody I wanted to be. I could escape my past.
"Well, son," said the man, tapping his old pipe on his calloused hand. "If you can't make it in California, you can't make it anywhere."
...
"Mr. Stanley, return to the front office!" the camp loudspeaker echoed across the compound.
I extended my hand to inmate Rhodes. He looked at it and then took it limply.
"When you shake a man's hand," I said, "grab on to it." He quickly squeezed my hand. "And look me in the eye!" He did. "Thanks for the tour" — then I headed toward the front office.
"Mr. Stanley!" I turned back. "Will you — will you come back and visit me? Sir?"
Recently on First Chapters
Have something to say about this article? Leave your comment via Facebook below!
advertise with us
Example: "Gen 1:1" "John 3" "Moses" "trust"
Advanced Search
Listen to Your Favorite Pastors