Faith in the Land of Make-Believe
Lee Stanley, Author
Wednesday, March 30, 2011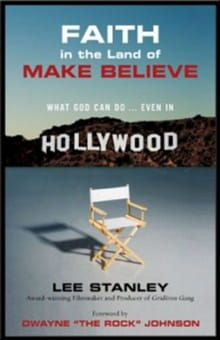 I thought for a long moment. "I don't know."
I collected the tattered film reel from Chaplain Fox and left the facility. Once back on the outside of the brick wall, I took a deep breath. I felt numb, unsure where to put all that I had just experienced.
"Line up and shut up!" the camp loudspeaker bellowed from inside the prison. I turned and looked up at the shiny gray loudspeakers bolted to the tall light pole. "Hands behind your back! Move it out! On quiet!"
I wandered back to my truck, climbed in, and sat behind the wheel.
I don't know why, but I cried.
That first "up-front and personal" encounter with "killer kids" at Camp David Gonzales was an alarming wake-up call. Within moments, I sensed those hostile teen predators had me locked in their invisible crosshairs; they knew who I was (and I'm not talking about my name), what they thought of me and why.
Killer kids can read your eyes, your body language, your muscle tone, your gait, your hairstyle, your clothes, and the tone of your voice, even your choice of words. To them you represent an "opportunity," a walking billboard, a living testament of your net worth. They gauge your strengths and weaknesses. In the flick of a switchblade they know if they should play you, when they should play you, and how they should play you.
If you do get "the nod," please know that you have been handpicked for one or all of the above reasons, and your chances of survival are slim to none.
I got the nod — and it changed every area of my life.
...
My custom-built cedar home was in the same Santa Monica Mountains as Camp Gonzales, but three miles farther west and overlooking picturesque Malibu Lake. I was a documentary filmmaker obsessed with doing things "my way" and thus always scrambling for work to feed my blended family of five. I'd been married and divorced twice and had a five-year-old son, Shane, when I met Linda, my third wife. I also had a nine-year-old daughter whom I had never met from my first marriage. Linda brought two sons to the party, ages nine and twelve. We added Wiley the goat and Star the dog shortly thereafter. So far, we'd survived four bumpy years.
We couldn't see the lake from our home because of the thick stand of pines and leafy sycamores between us and the water. In our garage we maintained our off-road motorcycles, organized our sailing and camping gear, and worked out with our boxing equipment. My private studio was perched over the garage, its high ceiling and windows creating the perfect setting for filmmaking — and wrestling matches with my kids.
Another short flight of stairs led to the main house. While not large, it was romantic and always smelled of fresh air, pine trees, and Linda's home cooking. At nighttime, we could hear the coyotes and sometimes the screech of an owl. Our distant neighbors were quiet and friendly and always smiled and waved when we drove past or took out our trash barrels.
Nobody ever mentioned Camp David Gonzales.
"Chaplain Fox called while you were out," my wife announced as she entered the studio and placed a tray of iced lemonade and Fig Newtons on my cluttered desk.
"Any message?"
"She's very nice." Linda poured the lemonade. "I set up a screening of Mountain Tops for next Saturday at Sylmar Juvenile Hall."
"You did what?"
"Chaplain Fox asked if you had any films that would inspire the prison kids. When I told her about Mountain Tops, she got all excited." Linda leaned down and kissed me and then headed for the door. "I already talked to Rick. He and Esther will meet us there."
My friend Rick and his fiancée, Esther, were the subject of the documentary.
ZONDERVAN
Faith in the Land of Make-Believe
Copyright © 2011 by Lee Stanley
This title is also available as a Zondervan ebook.
Visit www.zondervan.com/ebooks.
This title is also available in a Zondervan audio edition.
Visit www.zondervan.fm.
Requests for information should be addressed to:
Zondervan, Grand Rapids, Michigan 49530

Recently on First Chapters
Have something to say about this article? Leave your comment via Facebook below!
advertise with us
Example: "Gen 1:1" "John 3" "Moses" "trust"
Advanced Search
Listen to Your Favorite Pastors