Fierce Beauty
Kim Meeder, Author
Monday, November 07, 2011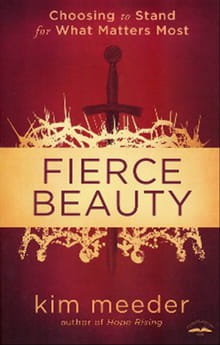 EDITOR'S NOTE: The following is an excerpt from Fierce Beauty by Kim Meeder (Multnomah).

Chapter 1
The Fracture
One True Anchor
How had it come to this?
I was in no man's land—literally a place where no human being should be. Step by foolish step, my pride had brought me to this bitter, frozen end. Though the terrain was intensely beautiful, all that waited for me here was my own death.
At more than 14,000 feet, I dangled motionless above an infinite void. I clung with a white-knuckled grip to the only device that could save me, my ice ax. Hanging from a near-vertical sheet of ice only yards below a mountain summit, I was surrounded by a silent world of white. The expanse around me no longer concealed the fact that this could be the exquisite location where my life would end. Frayed thoughts twisted around the clutter of all my what-ifs. Finally the noisy and confused voices within my mind stilled. All that remained of my broken ability to reason circled in my head like a lost boomerang, proclaiming with each weak pass the same whispered message:
How did it come to this?
One of the highlights of my life occurred when I was five years old. Seared like a brand on my soul, the memory of that moment feels me with heat even now. Earlier on that long-ago day, with all the determination and strength that a little heart could muster, I'd gripped the back pockets of my dad's 501 jeans. Like a human mule, he'd patiently towed his youngest daughter up her first mountain. At 10,457 feet, requiring a round trip of less than five miles, Mount Lassen's small volcanic summit is not much of a challenge for those who frequent the high places. But for a young girl, reaching its peak was a triumph of love and wonder.
While my dad and I sat shielded by a rock wall, I snuggled close to him for warmth. The wind seemed to resent the vertical detour demanded by this small volcano and screamed all around us. My hair whipped around my face in a frenzied mass of black knots. With nothing above us but sky, I huddled in awe, captivated by the wonder that swept down and away like a living, undulating quilt of unthinkable beauty. Distinct from anything forged by the hands of men, this exquisite mantle continued beyond human sight in a decadent tapestry. Great forests appeared as deep folds of green and rushed down to embrace a myriad of sapphire lakes. Caught up in Creation's never-ending flow, green eventually gave way to amber as forests poured into vast plains of golden grass.
The rapid compression of air moving over the volcano's peak created cloud spindles. The white wisps appeared before our eyes, danced wildly across the summit, and disappeared just as swiftly. I was certain my dad and I were the only two people on earth who saw them. Like translucent sprites they tumbled and rolled in captivating shapes. Through exuberant eyes I watched them call me to join in their frolic. They seemed to play from the beginning of their brief lives right up to their last twisting moments. Spiraling down into threadlike strands of white, they waved one last good-bye before dissipating forever into a heavenly ocean of blue.
That moment with my dad on Lassen ignited in my heart a deep and passionate love for the mountains. There was an indescribable, fierce power in these high places—and also incredible wonder and beauty. I was hooked.
Later, more favor poured into my life when my dad was hired as a weekend downhill ski instructor on the lower flanks of northern California's Mount Shasta. At 14,162 feet, Shasta isn't the highest peak in the lower forty-eight states. But most agree that by sheer mass, it's one of the biggest. Shasta's base-to-summit rise of nearly ten thousand feet is second only to Mount Rainier and Mount Whitney in the contiguous United States. As an active, stand-alone volcano, Shasta dominates the horizon for more than one hundred miles in every direction.
Recently on First Chapters
Have something to say about this article? Leave your comment via Facebook below!
advertise with us
Example: "Gen 1:1" "John 3" "Moses" "trust"
Advanced Search
Listen to Your Favorite Pastors