Her Daughter's Dream
Francine Rivers, Author
Wednesday, September 07, 2011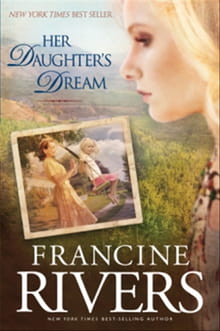 EDITOR'S NOTE: The following is an excerpt from Her Daughter's Dream, Marta's Legacy Series #2 by Francine Rivers (Tyndale).
1
Hildemara lay in the darkness, her nightgown damp with perspiration. Night sweats again— she should be used to them by now. Her roommate, Lydia, snored softly. Lydia had been steadily improving since she arrived six weeks ago, which only served to depress Hildemara more. Lydia had gained two pounds; Hildie lost the same amount.
Two months and still no improvement, hospital bills mounting daily, crushing Trip's dreams beneath their weight. Her husband came each afternoon. He'd looked so tired yesterday, and no wonder when he had to work full- time and then go home and take care of all her duties: laundry, cooking, seeing to Charlie's and Carolyn's needs. Hildie grieved over her children— Charlie on his own so much of the time, Carolyn being raised by an indifferent babysitter. She hadn't touched or seen her children since Trip brought her to the hospital. She missed them so much, she felt physical pain most of the time. Or was that just the mycobacterium tuberculosis consuming her lungs and decimating her body?
Pushing the covers back, Hildie went to the bathroom to rinse her face with cool water. Who was that gaunt, pale ghost staring back at her in the mirror? She studied the sharp angles, the pallor, the shadows beneath her hazel eyes, the lackluster brown color of the hair around her shoulders.
I'm dying, Lord, aren't I? I haven't enough strength to fight this disease. And now I have to face Mama's disappointment in me. She called me a coward last time. Maybe I am giving up. She cupped water in her hands and pressed her face into it. Oh, God, I love Trip so much. And Charlie and sweet little Carolyn. But I'm tired, Lord, so very tired. I'd rather die now, than linger and leave a legacy of debt.
She'd told Trip as much last week. She only wished she could die at home, rather than in a sterile hospital room twenty miles away. His face had twisted in anguish. "Don't say that. You're not going to die. You have to stop worrying about the bills. If your mother came, I could bring you home. Maybe then . . ."
She'd argued. Mama wouldn't come. She'd never helped before. Mama hated the very idea of being a servant. And that's exactly what she'd be— a full- time maid and washerwoman, babysitter and cook, without pay. Hildie said she couldn't ask such a thing of Mama.
Trip called Mama anyway, and then he went down on Saturday with Charlie and Carolyn so he and Mama could talk things over. He'd come out this morning. "Your mother said yes. I'm taking a couple of days off to get things ready for her." He wanted to repaint Carolyn's room, buy a nice, comfortable bed, a new dresser and mirror, maybe a rocking chair. "Charlie and Carolyn will have the small bedroom. You and I'll be together. . . ."
"I can't sleep with you, Trip. I need to be quarantined." She could barely absorb the news that Mama had agreed to help. "I can't be near the children." At least, she could hear them; she could see them. Mama said she'd come. Mama was moving in. Hildie trembled, taking it all in. She felt a little sick to her stomach. "I'll need a hospital bed." She gave Trip instructions about her room. No rug. A window shade rather than curtains. The simpler the room, the easier to keep sanitized. Trip looked so hopeful, it broke her heart. He leaned down to kiss her forehead before he left. "You'll be home soon."
Recently on First Chapters
Have something to say about this article? Leave your comment via Facebook below!
advertise with us
Example: "Gen 1:1" "John 3" "Moses" "trust"
Advanced Search
Listen to Your Favorite Pastors