Her Daughter's Dream
Francine Rivers, Author
Wednesday, September 07, 2011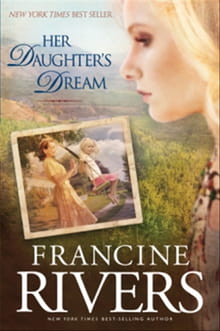 Carolyn came into the kitchen. "Mommy isn't going to like her room."
"It's exactly the way she wants it. Easy to keep clean."
"Mommy likes plants on the windowsill. She likes flowers in a vase." Mommy always had pictures in frames on her dresser.
"Mommy doesn't like germs." Oma peeled potatoes.
"What are germs?"
Oma chuckled. "You'll have to ask your mother."
Oma had dinner ready before Daddy came home from work. They all sat around the kitchen table. "When do you pick her up?" Oma set a pitcher of milk on the table and sat in Mommy's chair.
"Day after tomorrow."
"Plenty to be thankful for, haven't we?" When Oma stretched out her hands, Charlie took one and Carolyn the other. Daddy took their hands too so they made a circle. He hadn't said grace since Mommy went away. He spoke quietly now, calmly, said amen and sighed, a smile tugging at his lips. Oma asked questions about his work, and Daddy talked for a long time. When everyone had finished dinner, Daddy stacked the dishes, but Oma shooed him away. "You and the kids go visit or play or whatever you normally do. I'll take care of cleaning up."
Daddy took Charlie outside to play catch. Carolyn sat on the front steps and watched.
Oma handled the baths that night, Charlie first so he could do his homework. She sat on the closed toilet while Carolyn played in the bubble bath. Oma gave Daddy a book to read to them, with Carolyn on one side and Charlie on the other. When he finished, he kissed them both and sent them to bed. Oma tucked them in with prayers.
In the middle of the night, Carolyn awakened. She'd gotten used to sleeping with Oma. Charlie didn't have monsters in his room, but Carolyn worried about Oma. Crawling out of bed, she crept down the hall to her old bedroom and opened the door. Oma snored so loudly, she'd probably scared all the monsters out of the house with the noise she made. Scampering back to Charlie's room, Carolyn dove into bed. Snuggling down into the covers, she looked at Charlie sleeping on the other side of the room, thought of Mommy coming home, and went to sleep smiling.
...
Daddy left for work right after a breakfast of scrambled eggs, bacon, and fresh- baked biscuits. As soon as Charlie left for school, Oma tipped Carolyn's chin. "Let's go brush your hair and put it in a ponytail. What do you say?" She took Carolyn by the hand and led her into her bedroom. She patted the bed and Carolyn climbed up onto it. While Oma brushed her hair, Carolyn watched her grandmother in the mirror. She liked her white hair and tanned, wrinkled cheeks. She had warm green-brown eyes like Mommy's. Oma smiled back at her. She brushed Carolyn's long, curly blonde hair into her hand. "You look like Elise. She was my little sister, and she was very, very pretty, just like you." When all the tangles had been worked out, Oma wound a rubber band around Carolyn's hair. "There. That looks better. Don't you think?"
Carolyn looked up. "Is Mommy dying?"
Oma smiled at Carolyn. "No. Your mother is not dying." She ran her hand over Carolyn's hair. "She needs rest. That's all. Now that I'm here, she can come home and rest. You'll see your mother every day."
Carolyn didn't see the mixture of emotions in Oma's face that she had seen in Daddy's. Oma didn't look uncertain or sad. She didn't look afraid. Oma wore glasses, but behind them Carolyn saw clear, warm eyes filled with confidence.
Oma told Carolyn they were going for a ride. "I need to get to know the area, find out where things are."
Recently on First Chapters
Have something to say about this article? Leave your comment via Facebook below!
advertise with us
Example: "Gen 1:1" "John 3" "Moses" "trust"
Advanced Search
Listen to Your Favorite Pastors