Her Daughter's Dream
Francine Rivers, Author
Wednesday, September 07, 2011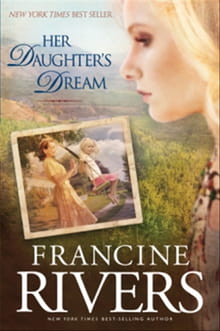 "What things?"
"Grocery store, for one. You and I are going to explore!" She made it sound like a great adventure. "We're going to find a library, where we can check out enough books to last a week. And I want to stop by the church, meet the pastor. Your daddy said you haven't gone for a while, but that's going to change."
"Will Mommy go, too?"
"No. Not for a while."
Oma drove fast, pointing this way and that, while Carolyn perched on pillows, taking in the sights. "Look over there. What do you know! A cheese factory! We'll pick up some good Swiss or Gouda cheese while we're in town. And there's a bank."
Oma took her to lunch at a small café on Main Street. Carolyn ate a hot dog and drank Coke. Before heading home, Oma wanted to wander through a department store. She looked through all the kitchen gadgets and bought a few. Then they went to the grocery store, and Oma filled the big basket. "Time to head home. We want to be there when Charlie gets off the bus."
Oma pulled into the driveway just as the school bus disgorged boys and girls. "Perfect timing!" Charlie ran up the street, whooping. Oma laughed and told him he sounded like a wild Indian. She handed him a bag of groceries. "You can help unload." She gave a smaller bag to Carolyn and carried in another bag and the package from the department store.
Charlie sniffed out the package of Fig Newtons like a bloodhound, opened it, grabbed a handful, and headed out the door to find his friends. Amused, Oma shook her head. "He's like one of my Summer Bedlam boys." Oma tore brown paper from the package and opened a big white box. "Look what I found when we were out shopping." She laid out a small embroidered tablecloth and matching napkins. "You and I and Mommy are going to make high tea every afternoon. It's been years since I've done it, but I have all the recipes right here." She took a worn leather book from her purse and set it on the table. She got a dreamy look on her face. "We're going to make this a special homecoming." She glanced at her watch and suggested they sit on the porch and enjoy the sunshine.
...
When Daddy brought Mommy home, Oma stood, holding Carolyn's hand. Mommy climbed out of the car, waved hello, and went straight into the house. Carolyn called out to her and followed them inside, but her father blocked her. "Leave your mother alone. She's going to bed." Mommy went down the hall into the cold room with the strange bed and closed the door. When Carolyn tried to go around Daddy, he caught hold of her and turned Carolyn around. "Go play outside for a while so Oma and I can talk. Go on now." He gave her a push.
Confused, Carolyn sat on the front steps until Daddy came out. He went right past her, got back into his car, and drove away.
Oma came out onto the front porch. "Your daddy had to go back to work. You'll see him this afternoon."
"Can I see Mommy?"
"No, Liebling." She shook her head and ran her hand over Carolyn's head. "Do you want to stay out here or come inside and help me make lunch?" Carolyn followed Oma back inside.
Her mother didn't come out of her room at all that day, except to use the bathroom. And every day after that was the same way. If she saw Carolyn in the hallway, she waved her away. Mommy didn't sit at the kitchen table for dinner or with the family in the living room when they listened to Lux Radio Theater. No one except Daddy and Oma could go into Mommy's room. Daddy often spent all evening behind the closed door while Oma took a book from the pile she'd checked out of the library and read stories to Carolyn and Charlie.
Recently on First Chapters
Have something to say about this article? Leave your comment via Facebook below!
advertise with us
Example: "Gen 1:1" "John 3" "Moses" "trust"
Advanced Search
Listen to Your Favorite Pastors